How Can I See Who a Phone Number Is Registered to?
DataProt is supported by its audience. When you buy through links on our site, we may earn a commission. This, however, does not influence the evaluations in our reviews. Learn More.
There are a lot of situations in life where you might ask, "How can I see who a phone number is registered to?"
Whether it's to figure out who called you or maybe see if an old phone number still belongs to the same person, looking up a phone number and who it belongs to can have a lot of benefits.
Reverse phone lookup tools such as BeenVerified and TruthFinder are great ways to find out who the owner of a phone number is. They can even help you find people's social media accounts (even Onlyfans!) and other personal information that you may need.
In this article, discover the different ways you can uncover who the owner of a phone number is.
How To Lookup Phone Numbers
The internet is a great medium to search for all kinds of information. Because people always leave digital footprints, search engines, social media sites, advertisers, and other companies can store this data.
There are many ways to find information about a person using only a phone number.
Here are some of the ways to find to whom a phone number is registered:
Reverse Phone Lookup Services
As mentioned, reverse phone lookup service allows people to know who owns a phone number by finding the name and address of the owner in a database.
While this might be a reliable and effective option, most of these services are paid. But worry not! Paid services like these offer more information than "free" sites.
Most of these paid sites also offer a trial period for a very low price, so you can try them first before fully subscribing.
Here are some of the reverse phone lookup services you can try:
White Pages Reverse Lookup
Whitepages is a company that offers online directory services, fraud screening, identity verification, and background checks. It aggregates the digital versions of public records and information in one place.
Here's how to use Whitepages:
Step 1: Go to Whitepages.
Step 2: Type the phone number into the search bar, and hit 'Enter.'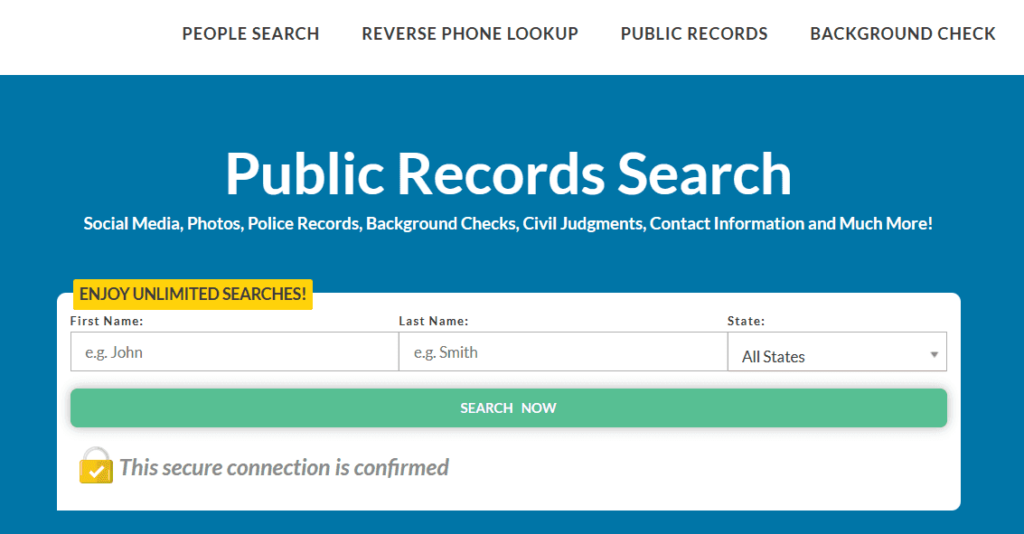 Step 3: Once the page loads, it will show the matching results.
Once there's a match to the phone number, it will show a name and address next to the listing, as well as their criminal and traffic records, property, phone carrier, and relatives.
Whitepages offers a 5-day trial membership for $1. This option will give the user unlimited access to the current address and landline information which is great if you're only searching for one phone number's owner.
Yellow Pages Reverse Lookup
Yellowpages is like the traditional phone directory. It has a free people search tool and reverse search to find information about a phone number's owner.
Here's how to use Yellowpages:
Step 1: Go to Yellowpages.
Step 2: Click the 'Find People button' to take you to a search engine.
Step 3: There are three options available to look up the person:
By Name: You can enter the first name, city, and state in the search bar. The last name is required.
By Address: Address is required to do the reverse address lookup.
By Phone Number: This is a reverse search lookup that allows you to know the owner of a phone number.
Click the 'Phone Number' button and input the number in the search bar.
Step 4: Review the information that shows on the screen. You can also select "View Full Profile" for more details.
The website offers residential and commercial listings, maps, directions, information on local attractions, FAQs, and coupons.
Truthfinder
Truthfinder is a safe online search engine that can identify an individual living in America. It can quickly gather public information and provide a detailed report.
Getting the full report requires you to pay for a membership. But the website has a special offer of $1 for a 5-day trial period.
Here's how to use Truthfinder:
Step 1: Go to Truthfinder.
Step 2: Once the screen loads, click the 'Reverse Phone Lookup' at the top of the screen.
Step 3: Input the number in the search bar and click 'Search.' Wait for a few minutes while the site loads the report.

Step 4: Once the report is ready, the site will ask you to input your First and Last Name and Email to save your results. Then, click 'Save.'
Step 5: The site will then ask you to click 'Agree and Continue' to gain access to the report.
Step 6: You will be required to click 'I Understand' to get the free version of the report. This will contain only the following information:
Gender of the owner;
Whether the owner uses this number in their social media accounts;
An idea of what kinds of photos are available; and
Whether the owner has a hidden online activity.
Step 6: Click 'Get Full Phone Report' to get the paid full report. This will direct you to a paywall and information about the city where the user is recorded to be living.
Membership to the website costs $4.99 per month, but it has a trial membership for $1. Full access includes unlimited phone number lookups with detailed reports, private and secure report access, and easy cancellation when you are unsatisfied.
BeenVerified
BeenVerified is one of the best phone number lookup tools in the market. It compiles public records, social media accounts, criminal history information, and property records.
Here's how to use BeenVerified:
Step 1: Go to 'beenverified.com' and sign up.
Step 2: Go to BeenVerified's 'Reverse Phone Lookup' page.
Step 3: Input the number and click 'Search.'
Step 4: The screen will ask you to input your email address to get your results. After doing so, click 'Submit.'
Step 5: The page will require a trial period to get the full report. After you input your payment details, the screen will load the information gathered by the website with the name of the phone number's owner, age, address, email address, and social media accounts.
It is important to remember that BeenVerified is a paid service. But you have the option to pay $1 for a 7-day trial.
Social Catfish
Social Catfish can search the web and do an algorithm-based search. It searches using its proprietary image search instead of entering information into regular search engines like Google. If you run the reverse phone number search, it will look into any associated accounts.
Here's how to use Social Catfish:
Step 1: Go to Social Catfish.
Step 2: Choose the 'Phone' option. Type in the phone number of the unknown caller in the search bar, and click 'Search.'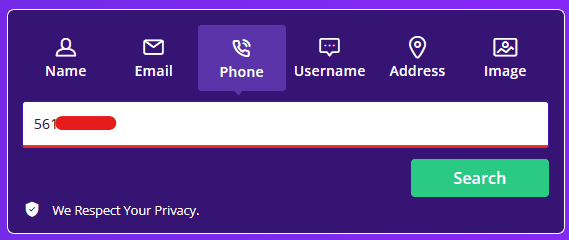 Step 3: To get the report, you are required to enter your Email Address. After doing so, click 'Continue.
Step 4: Before getting the full report, you will be directed to a paywall where you must fill in your payment details through a credit card or Paypal.
After filling in the details, click 'Unlock Result Now,' and you will be directed to the full report.
While this service has payment, there are ways for you to access your report at a discounted price.
Reverse phone lookup tools offer a great way for you to protect yourself. They can help you identify the owner of a phone number so you can see if you're being scammed or not.
If these ways do not work for you, you can always try other methods such as calling the number back.
Try to Call the Number Back
Calling the owner directly and asking for their name might be the practical solution, but there is a risk of calling someone you don't want to hear from, or the number may not accept incoming calls.
The good thing is, there is a way for you to hide your caller ID.
One method to hide your number when you call back is called Last Call Return. This method allows you to contact the last number that called your phone regardless of whether the call is private.
For landlines, dial *69; for mobile phones, dial #69.
This method can be great if you are not keen on paying a trial period for reverse phone lookup tools. But if this doesn't yield the results you need, your next bet is to try different search engines.
Use Search Engines
Google is one of the best search engines for unknown and suspicious numbers. It offers a reverse lookup option that does not require payment yet fast.
To use the "Phonebook" feature on Google, follow these steps:
Step 1: Type in "Google.com" in your address bar.
Step 2: In the search bar, type in the 10-digit phone number with the area code.
Step 3: Press 'Enter' and wait for the results. If the number is available online, it will appear as a search result.
The only downside is that it is not always accurate because the law protects phone numbers, while landline numbers are more accessible.
That's why there is a need to scrutinize whether the data obtained online is correct.
Search The Number In The Call Log
Sometimes, the best step to do when you receive a call from an unknown number is to look for it in your call log. The reason is a lot of phone companies provide services like call blocking, call rejection, call trapping, or call screening stored in the incoming and outgoing call logs.
Phones have a limit to the number or duration of retained call history. Some phones can only store missed calls from 6 to 12 months or a call history limit of the last 500 call activity.
To check the recent call history of a number, it differs what kind of mobile device operating system.
On Android devices:
Step 1: Tap the Phone icon.
Step 2: If you're not redirected immediately to the "Recent" button, click that at the bottom of your screen.
Step 3: Tap on the number. From the dropdown option, tap "History." Some devices have a "Call details" or the "i" icon instead.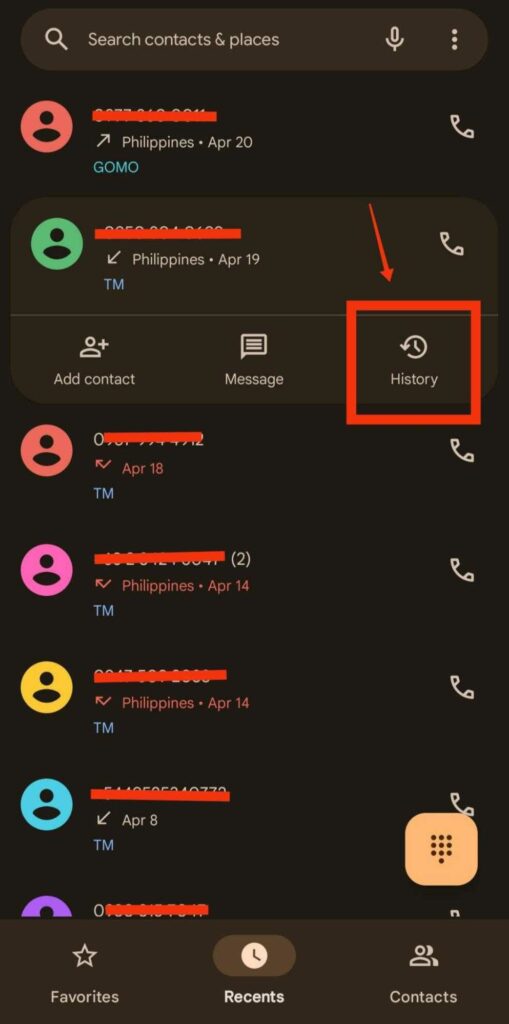 On Apple devices:
Step 1: Tap the Phone icon.
Step 2: Click the "Recent" button at the bottom of the screen.
Step 3: Tap the "i" icon beside the number to see the call history.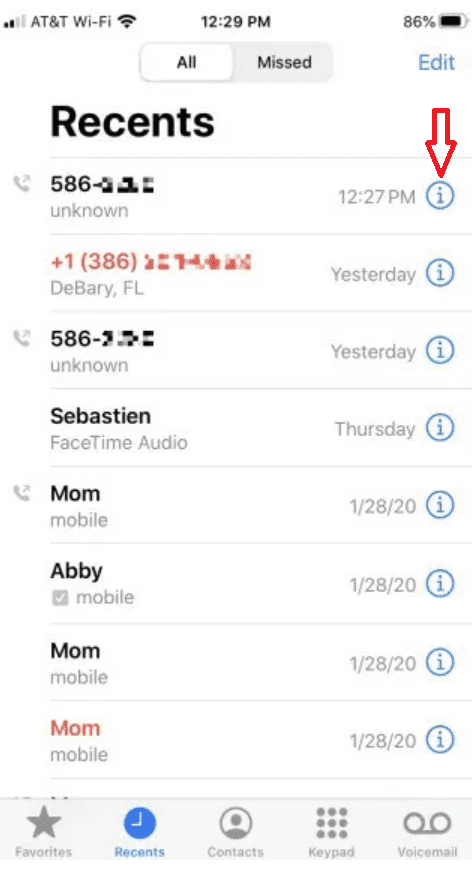 The Limits Of An Online Phone Number Search
The internet made it easier to find someone. However, it may be a pool of information; it has limitations.
Google has already allowed users to remove their information online, like phone numbers, physical addresses, and email addresses, from the search results to prevent identity theft or stalking. Aside from that, there's a possibility you might get the wrong information.
Bottom Line
We must remember that whatever we put online will stay there. Cybercriminals can also use that information against us to commit different forms of cyberattacks, use them for scamming, or to commit identity theft. So, it's better to be mindful of whatever we put on the internet and protect ourselves online from people with nefarious intentions.