Is There A BeenVerified Free Trial?
DataProt is supported by its audience. When you buy through links on our site, we may earn a commission. This, however, does not influence the evaluations in our reviews. Learn More.
BeenVerified is a people search site that provides users access to an ample public records database and background information.
It was founded in 2007 and gets 10 million monthly visits as of 2020.
Users can discover a wealth of data with a few clicks, including personal details, contact information, criminal records, and even help you find someone on OnlyFans and other social media sites.
The versatility of BeenVerified makes it valuable for individuals from different walks of life.
While employers and landlords cannot use BeenVerified to screen employees and tenants, those curious about their dates or even their own internet privacy can use the website.
In this article, discover how you can get a free trial of BeenVerified online presence.
How to Get BeenVerified Free Trial
Getting a trial of BeenVerified is quick and easy as the platform offers a remarkable opportunity for users to experience its full range of features.
Keep in mind that BeenVerified doesn't offer a free trial; instead, they offer a $1 subscription for seven days.
Here's how you can get started:
Step 1: Visit the BeenVerified Website
To begin, visit their official website.
Step 2: Sign Up for an Account
Once on the BeenVerified website, you must sign up for an account.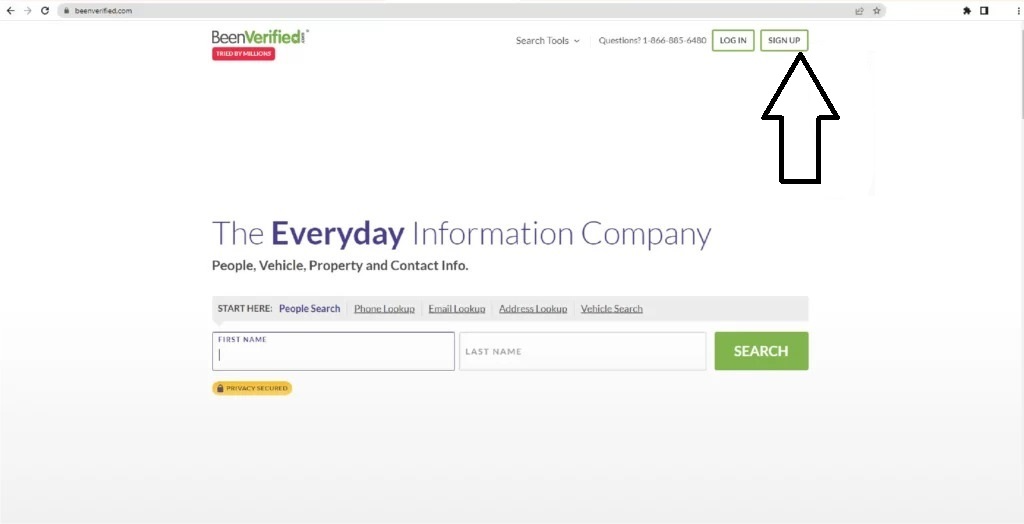 Step 3: Go Back to the Previous Page
The trick is to get the Special Offer message. For the Special Banner Offer to appear on the BeenVerified website, click the Back tab arrow to return to the previous page.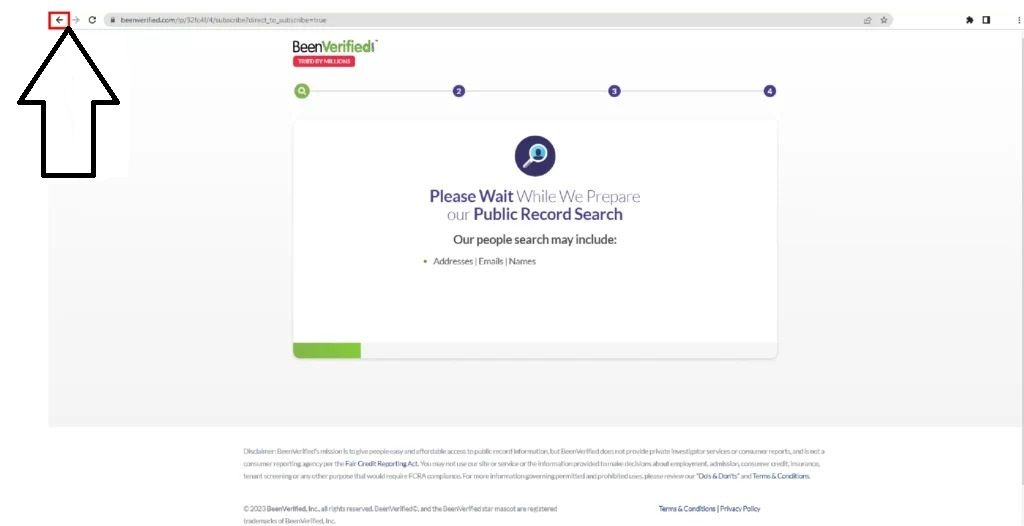 Step 4: Accepting the Offer
The Special Banner Offer will pop up when you click the back arrow. Next, click the green button with the "Try BeenVerified for $1!" message.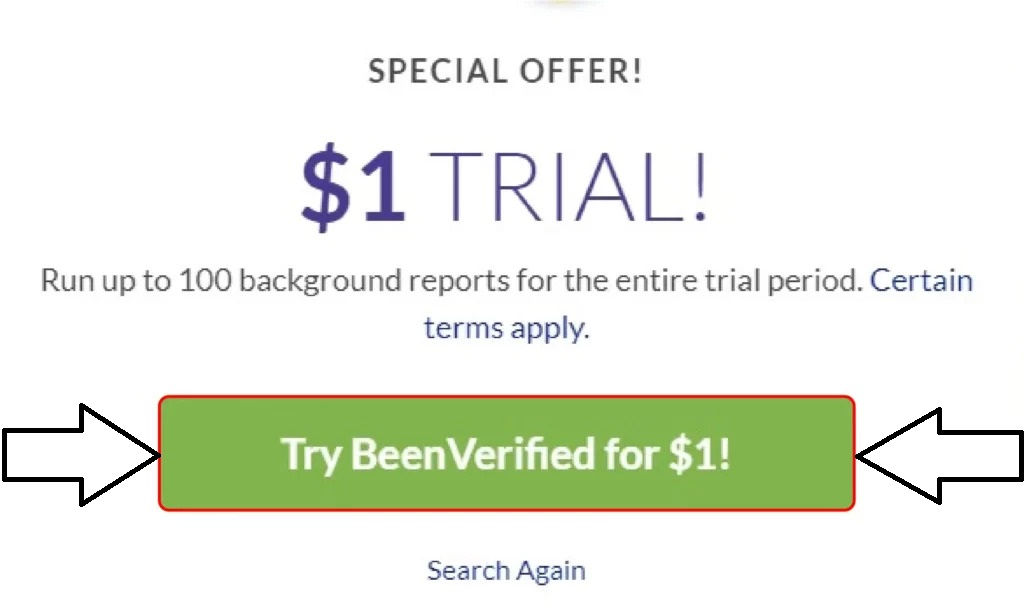 Step 5: Confirmation Message
You will be directed to the BeenVerified 7-Day Trial membership plan after clicking the button. Before continuing, a warning message will pop up as well.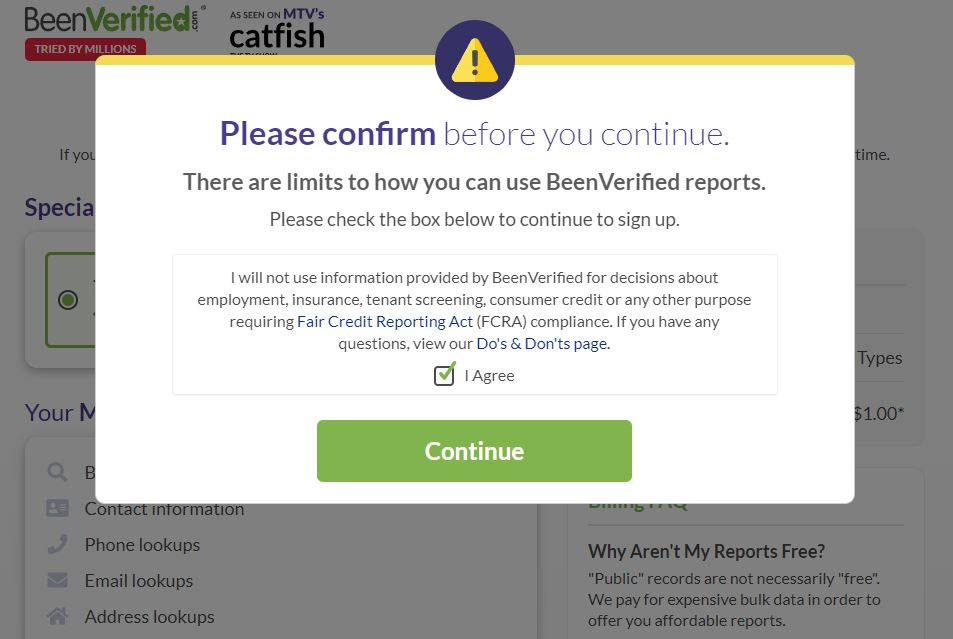 Step 6: Start Your Trial
After confirming, you'll be able to see the membership benefits of the special $1 trial offer.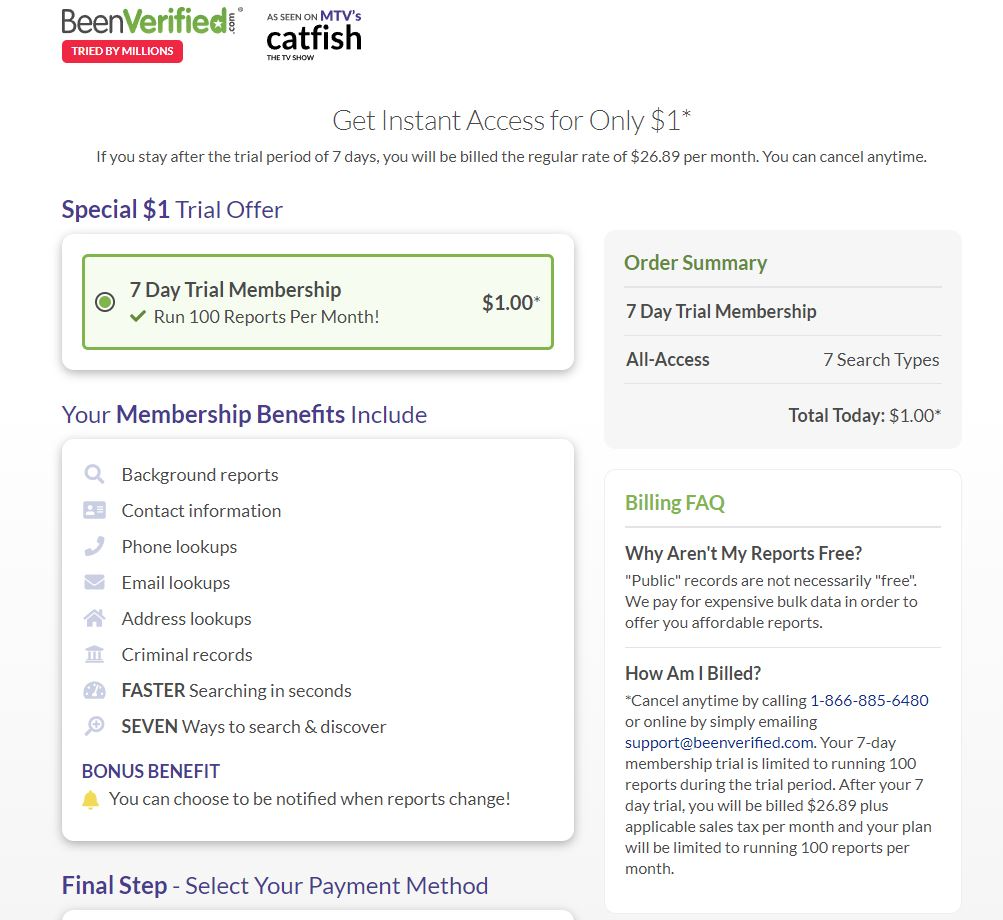 Step 7: Selecting Your Payment Method
BeenVerified offers multiple payment options to cater to individuals' preferences and ensure peace of mind.
You can choose Google Pay, PayPal, credit, or debit cards.
Step 8: View Your Results
After completing the form, click the 'View Results' button to verify your details.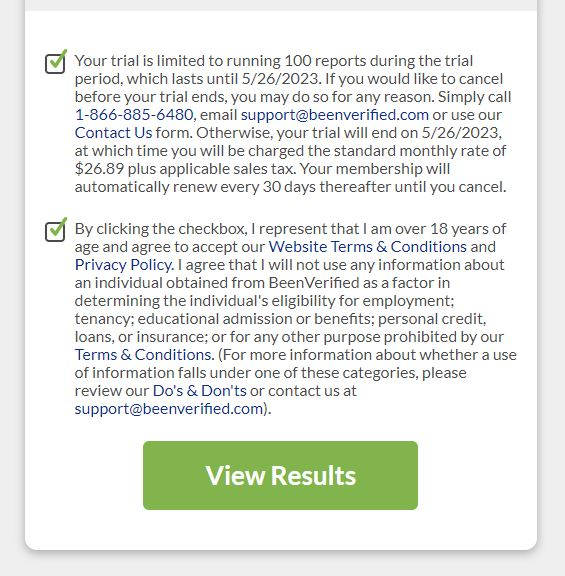 Step 9: Creating Your Password
After double-checking your details, you'll be routed to another page to create a password for your BeenVerified account.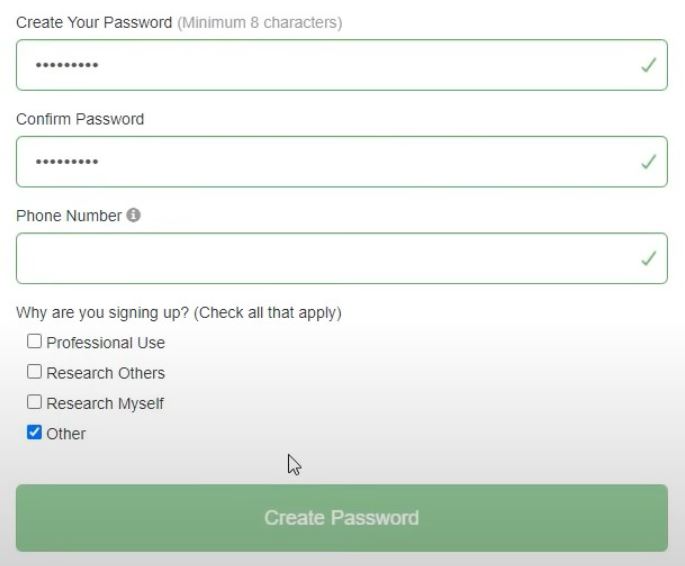 By following the simple sign-up process, you can discover insights and make informed decisions.
How to Cancel The Trial
While the platform offers a trial period to explore its features, you may cancel the trial subscription before it converts into a monthly paid membership.
There isn't a direct way to cancel a BeenVerified subscription. You must contact their customer support via the contact form, email, or phone.
If you're unsure how to cancel your trial on BeenVerified, these steps will guide you through the process.
For canceling online:
Step 1: Navigate to the Contact Page
Visit the BeenVerified website and go to the Contact page of the platform.
Step 2: Choose Your Topic
Select 'Cancel Account' from the drop-down option.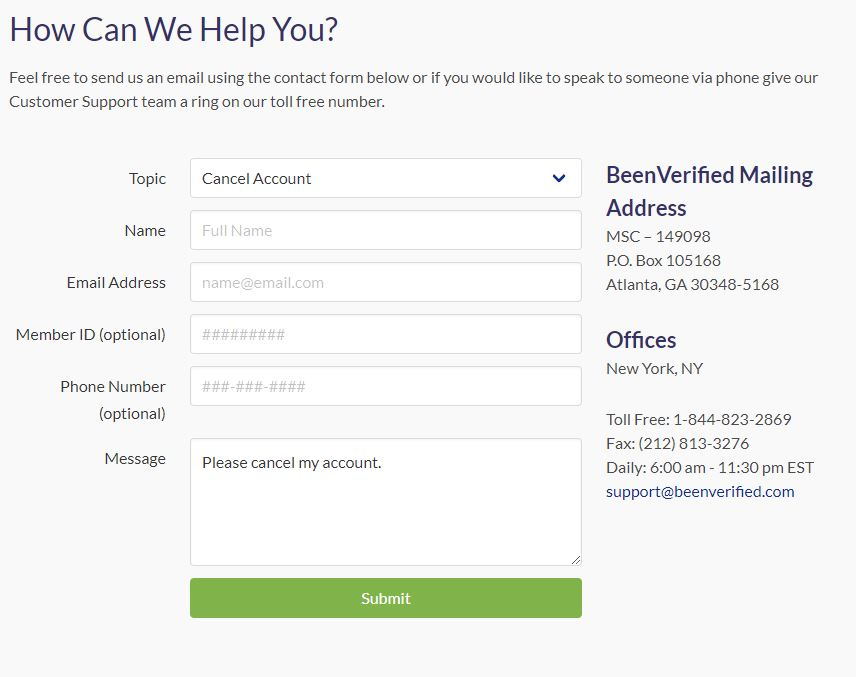 Step 3: Add Name
Enter your full name on the form.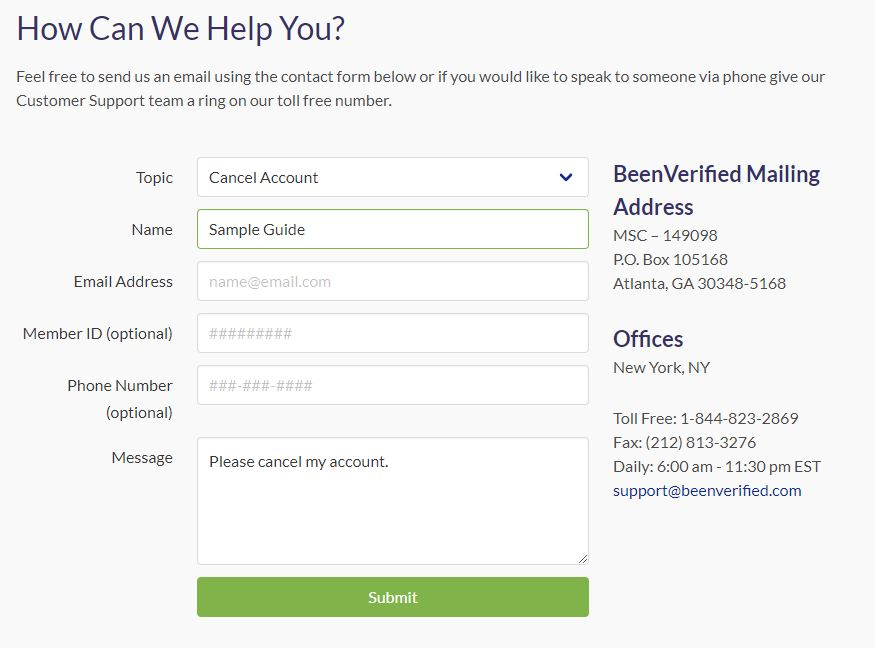 Step 4: Add Your Email Address
Input the email address associated with your BeenVerified account.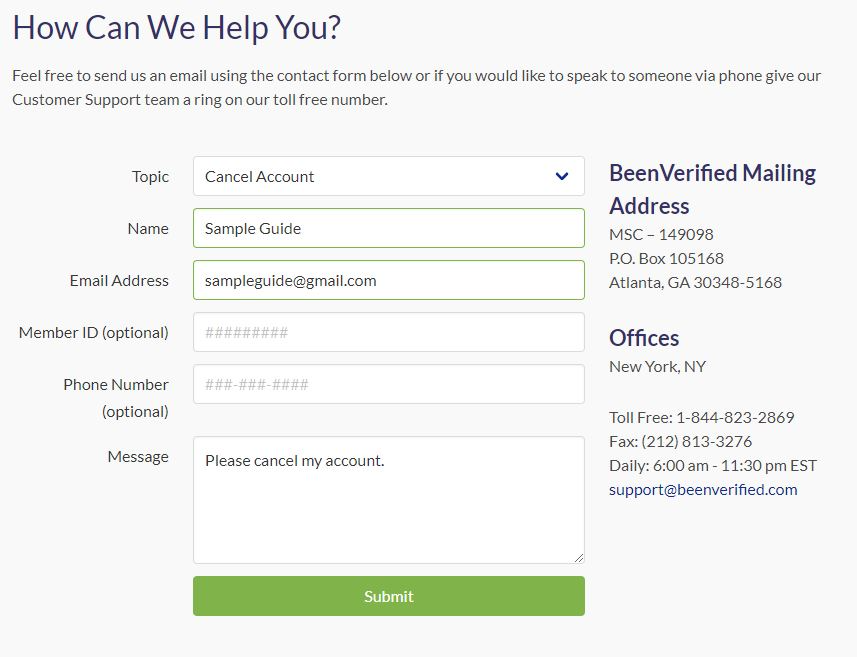 Step 5: Compose Your Message
Add details on why you would like to delete your BeenVerified account.
Step 6: Submit Form
After filling out the form, click the green 'Submit' button. Wait for the confirmation email from BeenVerified support.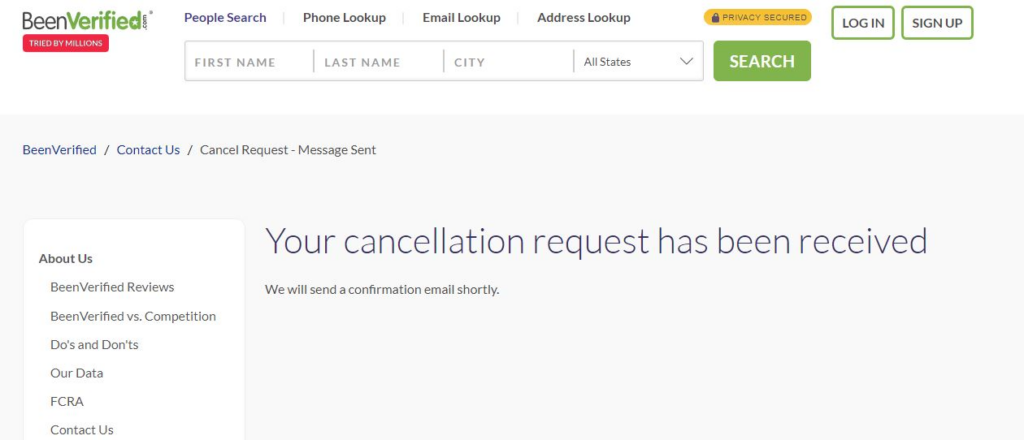 For canceling through email:
If you prefer sending a request via email, you can contact BeenVerified support at [email protected].
For canceling via phone call:
For their phone channel and customer service contact center, reach them at 1-888-579-5910.
For canceling via chat channel:
You even have the choice to cancel your subscription via their chat support on the website.
Canceling your trial subscription is straightforward when you know the steps to follow. If you encounter any challenges, reach out to BeenVerified support for more help.
Conclusion
BeenVerified is a reputable online platform that offers access to extensive public records and background information.
While the availability of a free trial may vary, users can take advantage of a $1 seven-day trial subscription to explore the platform's features.
To get the trial, trigger the Special Banner Offer and use the service.
If you want to cancel the trial, contact BeenVerified's customer support via the above mentioned options.
Following these will let you experience the platform and make informed decisions based on available insights.