The All-Connecting Thread: Internet Usage Statistics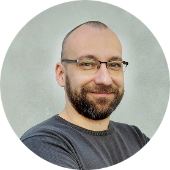 Updated:
Jun 10,2022 June 10,2022
DataProt is supported by its audience. When you buy through links on our site, we may earn a commission. This, however, does not influence the evaluations in our reviews.
Learn More.
Cyberspace. Information superhighway. The web. No matter what you call it, it's possibly the most important technological innovation since the invention of the wheel.
Internet usage statistics demonstrate that the web is interwoven with almost every aspect of our lives: connecting us, providing unlimited access to information, and lighting the sparks of innovation and progress.
Here's a snapshot of where the global web stands today.
Internet Usage Statistics - Key Findings
Worldwide, there are more than 4.33 billion active internet users.
The average user spends 6 hours and 42 minutes online each day.
Bots are responsible for 40% of all internet traffic.
There are more than 1.73 billion websites on the internet.
More than 24,000 gigabytes of data are uploaded to the internet each second.
General Internet Usage Statistics
More than 4.33 billion people use the internet actively.
(Statista)
Statistics from July 2019 show that the internet is continuing to grow at a rapid pace, with more than 56% of all the people in the world now counted as active users. That's a 9.1% increase over 2018's 4.02 billion users.
As of October 2019, there were more than 1.73 billion websites on the internet.
(Internet Live Stats)
While the number of websites dropped in 2018 from an all-time high of 1.76 billion the year before, 2019 website stats show a spike in site creation. However, of all those unique web pages, only about 200 million are active. The internet has a large graveyard.
The average internet user spends six hours and 42 minutes online each day.
(DataReportal)
Global internet statistics from 2019 show a slight drop from 2018's 6:49, but the time is still staggering. Users from the Philippines are leading the charge with over 10 hours spent online every day. Second place belongs to Brazilians with 9:29, while the third-highest country is Thailand with 9:11. American users are interestingly below the overall average, spending "just" 6:31 online each day.
More than 24,000 gigabytes of data is uploaded to the internet each second.
(WebFX)
Nothing paints a better picture of how huge the internet has become than knowing how much data it absorbs in the blink of an eye. From thousands upon thousands of social media likes, posts, swipes, and photos to more than 2 million emails sent each second, web stats on data show that the scope of human activity on the internet is almost unimaginably large. And it only keeps growing.
With more than 829 million internet users, China has the largest online presence in the world.
(Statista)
China is adopting the internet at an incredible pace. In 2017, it had just 731 million citizens online. Global internet stats show that this is an annual growth of almost 50 million users from just one country. The closest competition is another Asian giant, India, with 560 million users online in 2019. The United States holds third place with about 293 million people on the internet.
Asia has passed the rest of the world in the number of internet users, with 50.7% of all population coming from this one continent.
(Internet World Stats)
As China and other Asian countries modernized, the most populous continent quickly became the most populous corner of the internet, surpassing Europe, which holds second place with just 16%. Europe may not hold second place for long, however, because Africa is booming. World internet usage and population statistics show that the European internet population grew by 592% since 2000, while Africa's online presence increased by a staggering 11,481%.
Singapore is leading the world with an average broadband download speed of 196.88 Mbps.
(Ookla)
Broadband speed is increasing steadily worldwide. Internet bandwidth usage statistics show a tight race between countries as they continue to push download speeds faster. The global average download for broadband internet has reached 69.10 Mbps, while average upload speed is 36.52 Mbps. Singapore is fastest, followed by Hong Kong with 160 Mbps downloads, South Korea with 151.70 Mbps, and Romania with 140 Mbps.
Bots were responsible for 40% of all internet traffic in 2018.
(Wiredelta)
Internet traffic statistics from 2018 show that while human-based traffic increased by 7.5% over two years thanks to digital penetration in developing markets, bot usage remains high. The largest of these bots are the web crawlers GoogleBot and Bingbot, which feed data to search engines.
By the end of 2018, about 342.2 million domain names had been registered.
(Verisign)
Website statistics from the end of 2018 show an 11.7 million increase in domain name registrations year over year, which amounts to a 3.5% rise compared to 2017. The two most popular top-level domains, .com and .net, combined for approximately 151.7 million domain name registrations, an increase of 5.9 million year over year. In total, .com rules the domain name market, with about 137.6 million domain name registrations, while .net has about 14.1 million.
About 34.8% of all websites are powered by WordPress.
(W3Techs)
One of the most interesting statistics regarding the internet is that the content management system WordPress is now powering more than a third of all websites, including those without a CMS or with a customized CMS. If we exclude the websites with unknown content management systems, then WordPress holds a 61.8% share of the content management system market. The biggest sites that use WordPress include the New York Times and Forbes.
Google.com is the most popular website in the world.
(SimilarWeb)
With more 3.5 billion daily searches, Google is the undisputed champion of statistics on website usage, even though it is banned in China and is facing increasing challengers from that part of the market. China's Baidu search engine is the third most popular website globally. Second place isn't a search engine, but Google's sibling YouTube, which rules the video streaming market.
Google's Chrome browser holds 63.72% market share.
(StatCounter)
Google isn't just the most widely used search engine. The company also dominates the browser market. Internet statistics from 2019 show that Apple's Safari browser is in second place with a respectable 16.34% market share, while Mozilla's Firefox has third with just 4.45%.
Internet penetration for US adults aged 18-29: 100%.
(Pew Research Center)
US internet usage statistics by age reveal that the youngest generation of adults turns up to be basically all online, followed by the 30-49 age group at 97%. Next are those who are 50-64 years old, with 88%, while 73% of those 65 and older count themselves among internet users. The rankings may change, however. Recent elderly internet usage statistics reveal that elders str quickly catching up in numbers, jumping 6% since 2018.
About 28% of American adults are constantly online.
(Pew Research Center)
Data shows that 81% of Americans are online on a daily basis. Of those, 45% go online several times a day, while 9% go just once a day. About 8% of Americans visit the internet several times a week, and 10% of adults say that they do not use the internet at all.
Of the adults who report that they are constantly online, internet use statistics say that most are between 18 and 29 years old.
More than 22% of American citizens listen to podcasts each week.
(eMarketer)
US internet usage statistics reveal a sudden spike in the time people spend listening to podcasts. This type of entertainment has exploded in popularity. Six years ago, about 7% of Americans reported listening to podcasts about once a week. Today, the number is closer to a quarter of the population.
More than a quarter of Americans use ad-blocking software.
(Statista)
Statistics about internet usage and the growing popularity of ad-blockers show just how far people are willing to go to avoid advertisements online. While it is true that the share of ad-blocking users is growing slowly, it hit 25.8% in 2019. Advertisers say they are losing tens of billions of dollars per year. Some estimates say global losses could amount to $75 billion per year by 2020.
81% of Americans search for health-related information online at least once per year.
(Weber Shandwick, KRC Research)
Americans increasingly look for health-related information online, with eight out of 10 searching at least once a year. This illustrates a growing trend toward the internet as a source of health information. Internet statistics like these show that Americans are more than interested in health-related news, with 74% of them paying attention to news information and headlines regarding health.
When searching for health-related topics, 34% of Gen Z Americans are seeking mental health information.
(Weber Shandwick, KRC Research)
Internet usage statistics by category show 37% of Americans turn to the internet to research illness-related symptoms and treatments, while 28% use the web to research medications. Only 11% of medical searches are related to mental health.
31.2 million Americans post to their blogs at least once a month.
(Statista)
Internet world stats show that blogging has been growing at a steady pace, with at least 500,000 new bloggers in the US each year since 2014. Americans now amount to 30% of the world's 104 million bloggers. The second-largest blogging country is the UK with 6.75%. while the third spot is reserved for Japan: 4.88%.
Bloggers are also mostly millennials, with 53.3% of them in the 21-35 age group. There are slightly more female bloggers overall, 50.9% compared to 49.1% males.
The e-learning market was worth $190 billion in 2018.
(Global Market Insights)
Online education is growing at a steady pace, particularly with the increased use of smartphones and the adoption of mobile learning technology. Internet statistics from 2018 suggest that the market will grow at a compound annual growth rate of 7%, reaching $300 billion by 2025.
Mobile Internet Usage
More than 52.2% of all internet traffic comes from mobile phones.
(Statista)
The way that mobile devices have overtaken the digital world is nothing short of astonishing. Compared to 2010, when mobile market share was just 0.7%, we are now seeing almost a complete reversal in mobile vs desktop internet usage statistics. Asia and Africa have even higher rates of mobile internet traffic - above 65% in certain countries.
About 37% of all US adults mostly use smartphones to go online.
(Pew Research Center)
The mobile share has nearly doubled since 2013, when Pew last asked this question. At that point, 19% of Americans named their smartphone as the primary device for going online. Internet device usage statistics show that the numbers for adults aged 18-29 are even higher; 58% of them use smartphones as their primary device for going online.
About 25% of lower-income Americans are "smartphone only" users.
(Pew Research Center)
Mobile internet usage statistics show that some US demographic groups are increasingly moving away from PCs and relying solely on smartphones for internet connectivity. Overall, 17% of Americans belong to this group and do not pay a broadband subscription. That's more than double the 8% Pew documented in 2013.
Smartphone reliance is more common among adults who have a high school education or less, with 26% of them using mobile as their sole internet connection. And the numbers are about the same for Hispanics and blacks, with social statistics showing clear racial and ethnic gaps. Comparatively, just around 10% of whites are solely reliant on smartphones, while only 4% of college graduates in the US do not pay a subscription for broadband internet service.
Mobile online shopping accounts for 44.7% of total US retail sales.
(Statista)
Mobile devices like smartphones and tablets are quickly overtaking the world of online shopping, with internet usage statistics from 2017 showing Amazon's mobile app reaching more than 40% of all US consumers. In the next two years, mobile retail commerce will increase by almost 10%, researchers say, handling 53.9% of all retail e-commerce by 2021. And while smartphones are more widely used for shopping, the average value order via tablets remains significantly higher: $98 compared to $79 on phones.
American adults spend an average of 3 hours and 32 minutes using mobile devices per day.
(Statista)
Statistics on mobile traffic from 2018 show increased reliance on smartphones and other mobile devices, and a clear shift away from desktop and laptop computers. In 2012, the average American adult used mobile devices only 88 minutes per day.
Social Media Usage Statistics
Facebook is the world's largest social media platform, with more than 2.3 billion users around the globe.
(Statista)
Facebook is easily the most popular and well-known social network in the world, experiencing stratospheric growth since its inception and reaching reach a billion users before the end of 2012. Facebook usage statistics show that the platform now has almost 2.4 billion active monthly users.
The second biggest social media platform is YouTube, with 2 billion active monthly users. Facebook's Whatsapp remains firmly in third place with 1.6 billion. Facebook pretty much dominates the list, as its Messenger app is the fourth most popular, while its Instagram platform has 1 billion active users.
The average user spends 2 hours and 16 minutes each day on social media platforms.
(DataReportal)
Social media statistics show that compared to 2018. the average time users spend on these platforms has grown by just a minute from 2:15 the year before. Still, the average time spent on social media has grown by 40 minutes in five years.
More than 660 million people around the world have LinkedIn accounts.
(LinkedIn)
LinkedIn has become a hugely popular social network in the last decade. You can now find 30 million companies and 20 million open jobs on the platform. LinkedIn usage statistics show that over 48% of its 300 million users access the platform at least once per month, while two new users log in each second. LinkedIn is particularly popular among Americans with a college degree, with 50% of them using the platform compared to just 9% of people who lack college credits.
The percentage of people preferring YouTube to TV has doubled year over year.
(Google)
This page would not be complete without mentioning how powerful YouTube has become. It is now the main source of entertainment for a huge portion of the population, especially young people. In fact, 75% of millennials prefer YouTube compared to television. YouTube video statistics show that when it comes to content like compilation videos and highlights, watch time increased by 400% last year alone.
More than 50% of all Instagram users are 34 or younger.
(Statista)
Instagram has become one of the top social platforms in the world, ranking second in popularity among American teenagers in 2019. What's more important: Social media stats show that Instagram users are highly engaged with the platform, with more than 43% of teenagers saying they check their profiles at least hourly.
e-Commerce Usage
Millennials do more than 60% of their shopping online.
(Digital Commerce 360)
The internet has become a primary marketplace for millennials. More than half of all online purchases by millennials are from Amazon. As recently as 2017, millennials reported doing 53% of their shopping in brick-and-mortar stores, but now the number has dropped to 40%.
By the end of 2019, there will be more than 1.92 billion online buyers in the world.
(Statista)
Statistics on internet usage show that there is a clear preference toward online shopping among consumers around the globe. The trend is expected to continue growing. Analysts say the number will surpass 2.14 billion by 2021 - an increase of more than 600 million in just five years.
93% of all purchase decisions are influenced by online reviews.
(Podium)
The impact of the internet on customer service cannot be overstated. Consumers have almost complete faith in each other's personal reviews, which makes each customer incredibly important to businesses.
Consider Google's five-star review system. Many customers won't engage with a business that's got 3.3 stars or lower. There is no more room for mediocrity, and internet stats like this one prove that average is simply not good enough.
About 70% of consumers will do their grocery shopping online by 2024.
(Nielsen)
Data from 2018 show that the pace of adoption is actually much faster than predicted earlier. Neilsen found that previous estimates and world statistics were too conservative. The company predicts that US households will spend about $850 online for food and beverages annually.
More than 64% of all online shoppers in the US are subscribed to Amazon Prime.
(National Public Radio)
Amazon dominates online shopping, with 92% of American shoppers saying they have bought at least one item from the company. But Amazon is not only popular. It is, in fact, overwhelmingly trusted by shoppers, with 67% saying they trust the company to protect their privacy and personal information.
Fascinating Facts About the Internet
Utah state computer systems experience 300 million hacking attempts a day.
This is one of those internet facts and statistics that at first seems impossible. But it is the truth. Computer systems in Utah are indeed being attacked at an incredible pace, and the reason is pretty self-explanatory. Since Edward Snowden revealed the existence of the NSA's data center in Utah, the state has become a prime target for hackers searching for signs of weakness in government computer systems.
Before Snowden's revelations, internet traffic statistics showed that state computer systems were experiencing 25,000 to 80,000 hacking attempts per day, but the numbers have skyrocketed, with peaks reaching more than 300 million in a single day. State officials say most of these attacks are looking for vulnerabilities in computer systems via botnets so they can gain access to secret NSA data. They also note that such hacking goals are a waste of time, since state and federal systems are totally separate.
Founders Larry Page and Sergey Brin were willing to sell Google to Excite for $750,000 in 1999. They were turned down.
This is one of the craziest internet facts, and perhaps the biggest missed business opportunities, in history. But the deal ended up not happening, as Excite CEO George Bell decided against the deal. Google's market cap is now measured in hundreds of billions of dollars, while Excite was acquired by Ask Jeeves in 2004 and became Ask.com.
The internet weighs as much as a strawberry.
In 2011, popular YouTuber Vsauce partnered with professor John D. Kubiatowicz of Berkeley University in Florida to calculate just how much the whole internet weighs. To make one of the more fascinating facts about internet possible, Kubiatowicz used Einstein's formula E=mc2 and assigned a weight to the electrons that make up stored data, then calculated that 4GB of data would increase the weight of your mobile phone by 0.0000000000000000001 grams. Data stored in web servers totaled 2.1 zettabytes at that point - or the equivalent of 50 grams.
The first 5MB hard disk weighed a ton.
After realizing just how light the entire internet is, we can look back at one of the more fun facts about the internet and computing, all the way to the dawn of the modern tech industry. The year was 1956, and IBM had just introduced its brand-new 5MB hard disk. The disk unit weighed over a ton and was used by the first commercial computer to have a moving-head hard drive, the IBM 305 RAMAC. The massive hard drive occupied 16 square feet and stored five million characters of accounting data - a boon, since that much data required 64,000 of the era's punch cards. Production ended when IBM's 1405 Disk Storage arrived in 1961 for the IBM 1401.
The internet requires over 93 billion horsepower to operate.
To end the list of the most interesting internet facts in the right way, it is important to understand just how much energy internet servers consume in order to keep the web operational. A report from the Department of Energy calculated that the cost of energy consumption at American data centers is somewhere close to 70 billion kilowatt-hours per year, which would be equivalent to 90 billion horsepower in mechanical energy. This includes only major data centers. Add private servers and user PCs, and the numbers are incalculably large.
FAQ
The internet is a global system of interconnected computer networks in which users can get information and communicate with other computers through the use of an Internet protocol suite called TCP/IP. Internet history began when this network of networks was created by the Advanced Research Projects Agency of the US government in 1969.
The original name was ARPANET, and the goal was to create a robust, fault-tolerant network that would allow the military and academic researchers from different universities to communicate with each other. ARPANET continued to evolve throughout the 1980s, and was finally replaced by new networks from commercial internet service providers in 1995, shortly before the internet was brought to the public on a larger scale.
What was the first website?
The very first website was created by the 60-year old British scientist Tim Berners-Lee on August 6, 1991, officially starting the modern internet timeline. The website was named http://info.cern.ch, and it was hosted on a NeXT computer at the European Organization for Nuclear Research, where Berners-Lee worked. The first page on the first website was titled "World Wide Web," and it served as a guideline on how to contribute to the larger WWW project: an information system on the internet that would allow connection between documents via hyperlinks.
The most important part of the project was hyperlinking to lead users from one text to another. He also created many of the core technologies that still power the web today: HTTP, HTML, the first browser, and more.
While many people mistakenly conflate the terms "deep web" and "dark web," they are different. The infamous dark web makes up just 0.01% of the larger deep web, according to the newest internet statistics. Even the surface web, or all the regular content that you can find on Google, pales in comparison, as the deep web holds 96% of all internet content.
The deep web is not that different from what you can find while browsing the internet, but it is protected by a layer of security that prevents the public from accessing it. This is because the deep web holds the sensitive personal information we use every day in banking, online shopping, and everything else that requires authentication. For that reason, websites do not index these protected pages on Google, keeping the private data from public access.
How many advertisements does a person see in one day?
There is no denying that the average person is constantly bombarded with an overwhelming amount of images and advertisements. In fact, internet live stats estimate that a person is exposed to 5,000 or m ore ads per day, a massive jump from 500 ads per day that the average US consumer was exposed to in the 1970s. People in general are not too happy about this, which is why 86 million internet users in the US are using ad blockers.
How much data do we create every day?
The amount of data that we produce is growing at breakneck speed, with more than 2.5 quintillion bytes created every day at our current pace. These numbers are impossible to wrap your mind around, but to help explain how much data creation has accelerated, you should know that 90% of all the data in the world was generated in the last two years. With the adoption of the Internet of Things, internet usage statistics are projected to grow even faster. It is likely that the numbers boggling our minds today will seem minuscule by comparison.
Leave your comment
Your email address will not be published.*