How To Get Avast VPN for Free
Unlike its antivirus solution, Avast's VPN isn't free – but you may still be able to get it without paying a cent. Find out how here.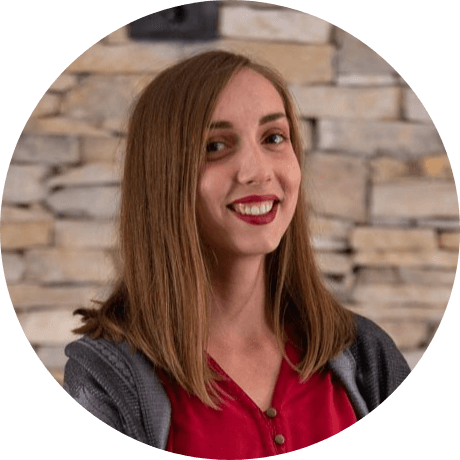 Updated:
Jan 21,2023 January 21,2023
DataProt is supported by its audience. When you buy through links on our site, we may earn a commission. This, however, does not influence the evaluations in our reviews.
Learn More.
With 30-plus years of experience in preventing cyberattacks and more than 435 million active monthly users, Avast is a reputable anti-malware solution provider best known for its free antivirus program.
Satisfied users who have already protected their devices with this robust antivirus tool are often interested in enhancing their protection and preserving their privacy by installing an Avast-developed VPN as well.
The good news is that Avast does indeed offer a VPN service that's easy to install and set up, called Avast SecureLine VPN. The bad news is - unlike the antivirus program, it isn't free, although you can technically download it and use it for free, thanks to its free trial and money-back program.
Let's take a look at the features of Avast SecureLine, explore how to get Avast VPN for free and your options if you decide to stick with this excellent VPN solution after the free trial expires.
Avast VPN Overview
Avast offers subscription-based access to its security products and a free antivirus tool that brought the company solid credibility with the IT crowd. However, Avast's VPN service was far less known for a long time, despite bringing unique features to the table. Today, more people are aware of it and its capabilities.
Privacy and Security
This sophisticated VPN solution will keep your private data safe on any public and unprotected Wi-Fi networks.
True to its no-logs policy, Avast doesn't save or store your browsing data on its servers, so it couldn't comply with any potential requests from the government or third parties to turn over that data.
Once you download Avast SecureLine and install it on your PC, iOS, Android, or macOS device, the company will gather minimal anonymous data from you to improve its service. We advise you to check its privacy policy for more details.
Another essential feature of this trusted VPN is the kill switch that automatically severs your internet connection to prevent revealing your data to your ISP and other entities in case your VPN suddenly malfunctions.
Servers
Any VPN, Avast VPN service included, is only as good as the network of servers it relies on. Avast's app will show you a list of VPN servers suitable for torrenting, along with servers optimized for streaming.
This often-overlooked feature will cut down on time spent looking for the best server manually. As one of the Kodi-compatible VPNs, Avast SecureLine VPN is a solid choice for streaming.
The performance of the VPN itself has some room for improvement. Problems mainly stem from the comparatively small number of servers the company has at its disposal. With only 55 servers, be prepared for dips in download speeds and a limited number of available servers in some countries.
This is also reflected in the fact that Avast SecureLine VPN - the trial and paid version alike - can't be used for streaming shows on Netflix, although it did work on HBO Max, Hulu, and Disney+ for us.
Interface
The aspect where this VPN app positively excels is the intuitive and beginner-friendly user interface. You can easily switch between servers and countries or quickly configure and tweak the app's numerous options.
How To Get Avast SecureLine VPN
Seven-Days Free Trial
The free trial gives you access to all premium features of the full version of the Avast SecureLine VPN we've previously discussed. The package also includes strong protection with 256-bit encryption to prevent data leakage.
The seven-day trial version also gives you full access to 55 servers across 34 countries. Most importantly, there's no need to provide your payment info; all that's required is a valid email address.
The steps for downloading and installing the free-trial version of this VPN solution are elementary:
Visit the Avast website and locate the SecureLine VPN section.
Under the list of available subscriptions, you'll find a download link to the free trial version.
Click on it to immediately start the SecureLine VPN free download.
Open the installer app and follow the simple instructions to install it on one or more devices.
Launch the VPN app to insert your email address.
Open the confirmation email to start with your seven-day Avast VPN trial.
Once this Avast SecureLine free trial is over, the app will ask you to purchase one of the subscription plans. However, you can reset the free trial version indefinitely. Just don't forget to cancel your current free trial on time to avoid getting charged. The procedure is simple: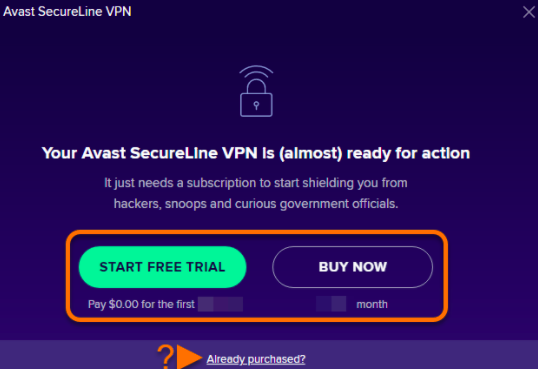 Uninstall the current free trial version you're using.
Return to the Avast website.
Download the installation file and reinstall the app on your device.
Open the VPN app and insert a new email address to use it for another seven days.
30-Day Money-Back Guarantee
Another way of using Avast VPN for free is to purchase one of the Avast VPN subscription plans, use it for up to 30 days, and then ask for a refund. All plans have a 30-day money-back guarantee you can benefit from if you strictly follow the refund policy guidelines.
Note that you can only ask for one refund or cancellation every six months. And the subscriptions are paid yearly, making the lump sum you'll have to pay upfront rather high.
Paid Plans
Since uninstalling and reinstalling Avast VPN every seven days just to keep using it for free is, in all honesty, a poor investment of your time, you might consider purchasing a full subscription instead.
All those who wish to buy Avast VPN will be glad to hear it's currently discounted and costs $4.60 per month on a one-year subscription. That's significantly cheaper than its competition, namely ExpressVPN and NordVPN. A three-year subscription further reduces the price to $3.75 a month.
There are no monthly subscriptions, which will undoubtedly leave many users baffled, as most VPN providers offer monthly packages.
Customer Service
You'll find an extensive library of materials covering the most common issues with this VPN on the official website. Additional installation and refund instructions are also available.
On the flip side, however, free users have no direct means of reaching customer support. Paying customers can contact the agents via email, while users with free trial apps will simply be reverted to the company's website database and online forums.
Avast Antivirus
Users who download Avast SecureLine VPN can also download and install the Avast Antivirus app. You don't have to get it, as the VPN will function without it; however, this is a powerful antivirus tool that won't cost you a cent, so it's worth considering. It offers malware protection, blocks ads and spam, and defends your computer from viruses by comparing suspicious files with its massive library of known digital threats.
Conclusion
The ​​free Avast SecureLine VPN app has all the premium capabilities that'll keep you safe and secure on the internet. Users will appreciate its robust security options, ease of use, and support for P2P servers. The seven-day trial period is arguably short, but you can extend it to 30 days or repeatedly reset it to avoid incurring any costs.
FAQ
How do I get Avast SecureLine VPN for free?
You can download the trial version from the Avast website. It lasts for seven days.
No. The Avast antivirus solution is free, but you don't get a VPN with it, unless you buy the Avast Ultimate package for $50 per year. The VPN can be purchased separately or used for seven days for free, without the need to provide any credit card information.
Head out to the Avast official website to get a trial or paid version of its SecureLine VPN.
What is the best VPN that's free?
ProtonVPN is an excellent Switzerland-based VPN that offers a free plan with 24 servers in three countries. It employs strong protocols, a VPN accelerator, and high-level encryption and will keep you completely hidden free of charge.
How much is Avast VPN a month?
You can often find the Avast VPN on sale for $4.60 a month. The only problem is that there's no monthly subscription, so you'll have to buy a yearly one instead, and that means parting with $55.20 at once.
Which VPN is free for PC?
There are plenty of free VPN services on the market. ProtonVPN, PrivadoVPN, Hide.me, HotspotShield, and Windscribe are just some of the solutions that offer a free plan.
According to PCMag, Avast used to collect user data, de-identify it, and hand it over to companies using it for market research in the past, but it has since stopped this practice.
Leave your comment
Your email address will not be published.*