How to Set Up a VPN on Android for Free
DataProt is supported by its audience. When you buy through links on our site, we may earn a commission. This, however, does not influence the evaluations in our reviews. Learn More.
Nothing beats a virtual private network or VPN when it comes to shielding your online activity and keeping your location hidden. In addition to security, access to entertainment (streaming services, video games, and geo-blocked websites) is one of the main reasons people turn to VPNs.
The latest data on VPN usage tells us that more than 31% of all internet users rely on VPNs. Initially, VPNs were only popular on PCs, but now mobile VPN users account for 62% of all people using this technology.
This comes as no surprise since media consumption is now driven by mobile phone usage. Additionally, most smartphone owners frequently connect to public, unsecured Wi-Fi networks and need a VPN to encrypt their online traffic.
One thing a lot of Android smartphone users are unaware of is that you can set up and use a VPN on Android without paying a cent. We'll tell you how to set up a VPN on Android for free both manually and by using dedicated VPN apps.
Do I Need a VPN on My Phone?
A VPN is a key component within the cybersecurity infrastructure, and there isn't a good reason why you shouldn't use one, no matter what platform or device you're on.
VPNs protect you in multiple ways. Through a process called tunneling, a VPN repackages and encrypts your internet data, keeping it hidden from prying eyes and tricking target websites and services into thinking you're accessing them from a different country/location.
There are plenty of reasons why you should use a VPN on a phone. The first reason is security. When you're connected to a VPN, it will be harder (or nearly impossible) for someone to monitor your online activity or steal valuable data.
Public Wi-Fis, to which we often connect with our smartphones, are notoriously vulnerable and are often used to conduct cyberattacks and steal credentials. By connecting to a VPN, the risk of getting your data stolen is significantly reduced.
We're witnesses to a tidal wave of cyberattacks in the last two years, made worse by our increased reliance on all things tech during the pandemic. Now, we need to use all tools at our disposal to keep safe in the murky world of cyberspace.
Lastly, a VPN has plenty of uses when it comes to entertainment. It can be used to unblock the US Netflix library from other countries, access cheaper items or different servers on games like Genshin Impact, as well as go to region-restricted websites.
In short, using a phone VPN isn't a mere recommendation – it's a necessity.
How to Set Up a Free VPN on Android Manually
You can use an Android VPN for free because the operating system ships with built-in VPN support. However, free built-in VPN support doesn't mean that the actual VPN service is free. It all depends on the VPN provider you choose.
There are two ways to connect to a VPN on Android. The first is manual, where you go through your smartphone's settings and manually type in VPN configuration details in order to connect. The second method is significantly easier and involves using a dedicated VPN app. Just like with manual Android virus removal, you should go for the manual method if all else fails, as dedicated solutions simply get the job done much more quickly and efficiently.
We'll cover the manual VPN configuration method first in this short step-by-step guide. Before you go about setting up a VPN manually on your phone, however, you'll need to get your hands on login and VPN configuration data first.
If you're using a commercial Android VPN, you'll need to go to the provider's website and log into your account. Once there, the configuration data is usually found under "Manual Setup" or "Connect to More Devices".
Usually, you'll need to fetch two things: log-in credentials (username and password) and configuration data, which is sometimes disseminated in the form of a downloadable file. Note that each server in your VPN network, which can sometimes number in the thousands, has a separate configuration file you'll need to download.
Alternatively, if you're connecting to a private or corporate VPN, you'll need to get this information from the system administrator or person in charge of VPN connections. Once you have this information in hand, it's time to set up an Android VPN connection.
Step 1: Navigate to Network Settings on Your Phone
The first step involves heading over to your phone's network settings, where you'll find VPN-related options. To do this, first, click on Settings (usually has a headgear icon) and then navigate to Network Settings. This tab can also be named Connection and Sharing or something along those lines, depending on the phone manufacturer.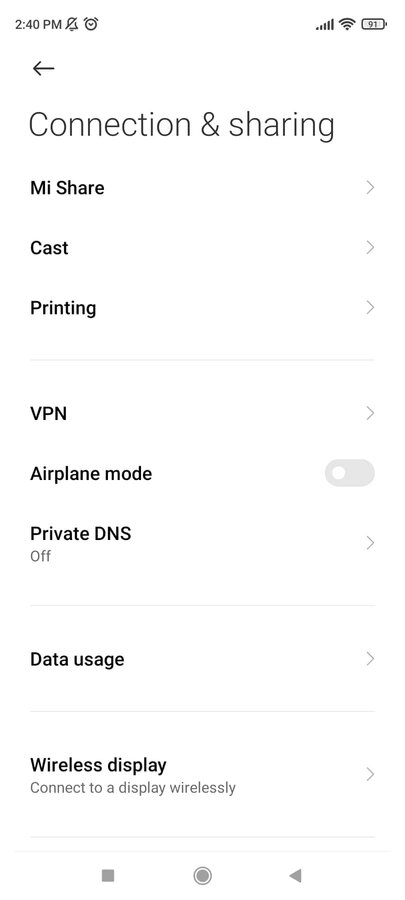 Step 2: Access the VPN Tab
Once you've accessed your phone's network settings, you'll see a button labeled "VPN". You'll be greeted by a nearly empty page with a VPN toggle button on top and an "Add VPN" option with a plus sign at the bottom. Click the plus sign, and you'll be taken to the phone VPN server configuration page.
Step 3: Type in the VPN Configuration Info
Now, you'll need to type in the login and VPN configuration data you've obtained from the provider or your IT administrator. Here's the information you'll need:
Type: This relates to the VPN protocol you're using. One major problem with connecting manually to VPNs on Android is that you're restricted to L2TP/IPSec and IKEv2 protocols. All these VPN protocols are pretty much obsolete due to security vulnerabilities, slow speeds, or both. The better option is IKEv2, while you should definitely avoid PPTP, as it's the most vulnerable (and oldest) of the bunch.
Server address: This is the address of the server you're connecting to and is represented in the form proxy.example.com. For example, SurfShark's US Atlanta server address is us-atl.prod.surfshark.com.
Login credentials: Username and password designated by the commercial VPN provider or IT administrator
Name: You can name the VPN connection whatever you want, but keep in mind that it's best to put recognizable denominators in the name, such as "NordVPN London server", so you can tell them apart if you have multiple connections saved.
Advanced options: Here, you can find DNS-related settings like DNS search domains, servers, and forwarding routes.
Once you've typed everything in, save the VPN connection profile.
Step 4: Select the Saved VPN Configuration to Connect
The connection profile you've saved can now be found under the VPN tab. To establish a connection, you just need to head to that tab (Settings>Network Settings>VPN) and tap the saved profile.
Those are the four simple steps for setting up a VPN on Android manually. Below, we'll show you how to set up an OpenVPN connection, as well as how to use dedicated VPN apps.
Setting Up a VPN on Android with the OpenVPN Protocol
As we've mentioned previously, when you're manually connecting to a VPN on Android, you're stuck with several outdated protocols. Most modern VPNs rely either on WireGuard or OpenVPN protocols to operate, and these are the best you can get.
Luckily, you can also create OpenVPN connections on Android with just a few extra steps. Almost every reputable VPN provider has a tutorial for using OpenVPN on mobile on their site. While different providers tend to have different steps, the thing you'll certainly need is an OpenVPN Android app. You can get these from the Google Play store for free, but make sure you pick one that's been vetted as safe.
Just follow the instructions from your provider, and you'll be using OpenVPN on Android in no time. We definitely recommend going the extra mile to enable OpenVPN connections, as they're both speedier and more secure than older protocols.
Using a Dedicated App to Connect to a VPN
Connecting manually to a VPN server on Android should always be a secondary option. It's generally used when the dedicated app won't function properly on your smartphone or when you're running an older version of Android the app is not compatible with.
If this is not the case, there's really no reason why you shouldn't be using a dedicated VPN app for Android. The only thing you'll need to do is download the appropriate app from the Play Store and log in with your VPN account credentials.
Once you access the app, you can connect to any VPN server your provider offers without the need to fiddle with server configurations or with adding each server individually. Furthermore, using the app gives you access to all those great features like the Kill Switch and Multi-hop, which aren't available when connecting manually.