TorGuard VPN Review
Fast and secure, not ideal for unblocking streaming services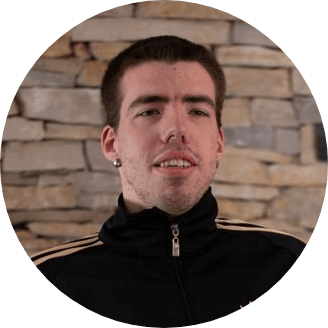 Updated: May 12,2022
DataProt is supported by its audience. When you buy through links on our site, we may earn a commission. This, however, does not influence the evaluations in our reviews.
Learn More.
TorGuard is a well-known name in the VPN market with a clear focus on providing its users with online privacy. In addition to the VPN, TorGuard also offers secure cloud storage and encrypted email services.
The company has a 3,000+ server network strewn across more than 50 countries. TorGuard abides by a strict no-logs policy, supports up to 12 simultaneous connections, and is cross-platform compatible.
But don't let the name mislead you. TorGuard has nothing to do with the Tor network. The "Tor" part stands for torrenting - another of the VPN's strengths. Our TorGuard VPN review also unveils some weaknesses with the service, including its inability to properly unblock streaming services like Netflix, the lack of transparency, and the absence of independent security audits.
TorGuard VPN
VISIT SITE
Price Range:
$9.99 - $32.99/month
AVAILABLE ON:
iOS
Mac
Linux
Chrome
Android
Windows
KEY FEATURES:
Number of servers: 3,000+
Number of server countries: 50
Maximum connections: 8 (Standard) and 12 (Pro)
Split tunneling: no
Kill Switch: yes
Ad blocking: yes
Supported protocols: IKEv2, L2TP, IPSec, OpenVPN, WireGuard
Streaming services supported: Netflix, Disney+, Hulu, Amazon Prime, BBC iPlayer
Price range: $9.99 - $32.99/month
Best price: $9.99/month
Pros
Unblocks Netflix
Broad selection of protocols
Sizeable server network
Stealth VPN
Great for torrenting
Cons
No split tunneling
Could be cheaper
About the Company
The company behind TorGuard is VPNetworks LLC. This piece of information is only available at the bottom of the surprisingly short privacy policy. VPNetworks LLC is based in Orlando, Florida.
Typically, a VPN provider based in the US wouldn't exactly inspire confidence because the country is part of the Five Eyes/Fourteen Eyes alliances. These international alliances monitor online user activity and share it with other member states, which increases the risk of your privacy being compromised.
Furthermore, American clandestine services are well known for their tumultuous relationship with privacy, which could, in theory, undermine TorGuard VPN privacy levels. Thankfully, TorGuard is strictly a no-logs VPN, which means that even if they were to be served with a warrant or their servers were hacked, they would have no identifiable user information to provide.
TorGuard VPN Features
To properly assess how TorGuard VPN stacks up against its many competitors, we'll look at its performance in several key areas such as the size of the server network, the speed, security, and others.
Server Network
The first thing we usually look at when reviewing VPN providers is their server network. The size of a VPN's server network and how well spread out it is, have a significant impact on the quality of service.
For example, users require servers near their actual location in order to achieve good connection speeds while protecting their privacy, as well as servers in remote countries to access region-specific content.
The TorGuard VPN server network has over 3,000 servers in more than 50 different countries, covering nearly all popular regions. While you can certainly find providers with larger networks, this is still a big number and is more than enough for the vast majority of users.
This gives you a wide enough selection of servers to gain access to a speedy VPN connection from wherever you live. In case there isn't a TorGuard server in your country, there's a good chance you'll find one in a neighboring state, which means your connection speed won't suffer.
While the provider does have some virtual servers in its network, most of the TorGuard VPN servers are physical ones. Virtual servers come in handy in some situations. Still, physical ones tend to deliver better connection performance across the board and are less likely to experience slowdowns when a large number of people are connected to a particular server.
Streaming
Much of the criticism of TorGuard VPN centers around its lackluster abilities when it comes to unblocking major streaming platforms. You can't create an account on these platforms if your country is not supported, and you can't access region-specific libraries like the highly popular US Netflix streaming catalog.
Aside from Netflix, TorGuard can't unblock Disney+, Hulu, Amazon Prime, BBC iPlayer, or other big names in the market. The only streaming platform TorGuard works with efficiently is YouTube.
However, if you're set on using this VPN to access this type of content, you can check out the TorGuard VPN streaming bundle. The streaming plan comes with dedicated IPs, which can help unblock Netflix and other services. But even with this plan, problems can arise when you're trying to access streaming platforms.
Torrenting
One area where TorGuard shines is torrenting. As we've mentioned at the start, the "Tor" in TorGuard stands for torrenting, which is a clear indicator of this provider's primary focus.
As such, it comes as no surprise that TorGuard VPN torrenting capabilities are top-notch. First of all, all 3,000+ servers in its network support P2P file sharing. This is somewhat rare even among the most popular VPN providers, which usually have only a select number of servers that allow torrenting.
Additionally, thanks to great speeds and unlimited bandwidth, coupled with strong security, torrenting is both safe and enjoyable with TorGuard. You can rest assured that your torrenting activity won't be detected by your ISP, while the speedy connection ensures quick torrent downloads.
Speed
Another hugely important metric to look at when reviewing VPNs is connection speed. Any VPN you use will slow down your original connection to some extent, as the process of tunneling and routing your connection through a VPN server takes its toll on the overall speed.
There are no limits to TorGuard VPN speed or bandwidth, whichever pricing plan you subscribe to. We've tested this VPN on a 100 mb/s connection, and our download speeds stayed around 80-85 mb/s when TorGuard was toggled on. This translates to a 15-20% download speed drop, which is pretty decent.
Of course, the actual connection speed you'll have with TorGuard depends on both the speed of your original connection as well as the TorGuard VPN server you connect to - the farther the server, the slower the connection. During our test, we connected to the closest server available.
Furthermore, the connection speed also depends on the VPN protocol you use. TorGuard recently added WireGuard to its selection of protocols, which provides both excellent speeds and maximum security.
VPN Protocols
The list of TorGuard VPN protocols is sufficient for all your needs and includes older protocols such as IKEv2, L2TP, and IPSec. You also get access to both OpenVPN and WireGuard - the modern, mainstream protocols that offer the best combination of high-end encryption and blazing speeds.
Having a varied selection of VPN protocols is important for many reasons. First, having modern protocols at your disposal is crucial for maintaining security and privacy, as some of the older protocols either have known security vulnerabilities and weaker encryption protocols and/or suffer from weak performance.
Secondly, having several different protocols at your disposal gives you flexibility, as you can swap between them depending on your activities - some are better for unblocking restricted sites, some for torrenting, and so on.
Gaming
While there are no dedicated TorGuard VPN gaming servers, this provider is suitable for gaming. TorGuard's vast server network and great connection speeds allow you to enjoy a lag-free and low latency gaming experience.
With TorGuard, we managed to access region-restricted games such as Korean MMORPGs, as well as region-specific item shops, which are useful if you want to nab virtual items at a lower price.
Stealth VPN
Another thing that stood out during our review of TorGuard VPN was the ability to hide your VPN protection, making it seem as if you're connecting without one. This feature is invaluable as there are many sites and services that work to detect the use of VPNs (banking portals, gambling sites, etc.) and deny access to anyone caught red-handed.
There are multiple stealth VPN options, including OpenVPN obfuscation, Shadowsocks, OpenConnect, and Stunnel.
Port Forwarding
TorGuard offers port forwarding support with all of its plans. Port forwarding allows incoming data to bypass your NAT firewall. This results in faster download speeds and lets you remotely access your PC. On the flip side, it does create vulnerabilities in your machine's overall security.
Kill Switch
The TorGuard kill switch automatically "kills" your internet connection whenever your connection to the VPN servers is interrupted. This is a pretty common feature among top VPNs, as it prevents you from staying online unprotected.
Whether the app glitches out or the server goes down, disruptions in your VPN connection can occur. When that happens, even a minute spent online without a VPN could lead to your security and privacy being compromised, which is why the kill switch feature is so important.
Anti-Malware and Ad Blocking
A growing number of VPN providers are incorporating anti-malware and ad blocking features into their packages. These features are pretty self-explanatory. While the VPN is turned on, it also serves as an antivirus of sorts, blocking any incoming malware from the internet. However, it does not have scanning capabilities and other parts of the toolkit you normally see with dedicated anti-malware solutions.
TorGuard VPN reviews only serve to confirm our conclusions about the impressive abilities of the software in blocking ads while you browse. This means there is no need for browser extensions such as AdBlock or ad-free browsers such as Brave.
Double Protection
Double Protection, or what's usually known as multi-hop, allows you to route your traffic through two VPN servers before accessing the end-point on the Internet. This makes it even harder for any snoopers to get a hold of your actual IP, location, and identity.
TorGuard VPN Security and Privacy
Although TorGuard is headquartered in the US - a country that's part of the Five/Nine/Fourteen Eyes alliances and does not have friendly data retention laws - this VPN provider is considered absolutely safe and secure.
The TorGuard VPN no logs policy clearly states that they do not store or share any type of data pertaining to browsing history, location, or the IP addresses of their users. In other words, no one can access TorGuard's servers and learn who the users are and what they're doing online.
While there have been no known security breaches and TorGuard never endangered the privacy of its users, there are some minor concerns that are worth pointing out. First, the company does not conduct security audits, and there have been no independent and public audits of TorGuard's security either - something a lot of top-level VPN providers allow.
Furthermore, there's no warrant canary page where VPN companies usually divulge information about being served warrants that demand user information. Lastly, TorGuard has not published any transparency reports since its inception.
Interface and Ease of Use
Before we go over TorGuard VPN plans, let's talk about the overall user experience. TorGuard has a sleek look, with a burst of color and a bit of a classic feel. This is something you'll find with a lot of VPN companies.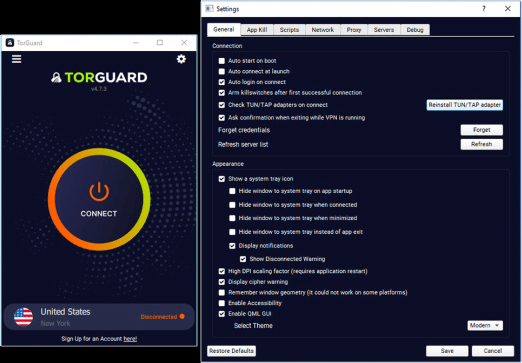 TorGuard apps are pretty easy to use due to their fairly simple design. All the options are self-explanatory, and you get access to the usual combinations of settings you can fiddle with - choosing a server/country, picking a protocol, automatically connecting, and so on. More advanced users might lament the lack of additional options, but we found the available settings perfectly sufficient.
TorGuard VPN Pricing
There are four different pricing plans on offer with TorGuard:
Anonymous VPN Standard - $9.99/month
Anonymous VPN Pro - $12.99/month
Business VPN: $32.99/month
Anonymous Email: $3.58/month
The bad news is that there's no free plan or even a TorGuard free trial. This is a pretty significant downside, as you don't really have any way of testing out their service for free without committing to a purchase. Furthermore, TorGuard doesn't offer any discounts for long-term subscriptions - something we've also gotten accustomed to seeing with most VPN providers.
Now, let's go over the differences between these four plans. The Anonymous VPN Standard plan has all the features we've mentioned in our review, up to eight simultaneous connections and unlimited bandwidth/speed.
The Anonymous VPN Pro increases the maximum number of connections up to 12 and adds a free dedicated IP that allows you to unblock streaming platforms (with varying degrees of success).
The Business plan adds a Secure Remote Work VPN, a dedicated account manager, user and IP management capabilities, an isolated work VPN network, and private email (optional).
Lastly, the email bundle gives you access to TorGuard's encrypted email service, which allows you to send up to 5,000 emails per day, supports file sharing, and allows for up to five different email aliases.
While these plans are a tad bit pricey, they're still on par with what most VPN providers charge. However, TorGuard does outclass its competitors in the number of simultaneous connections it allows and in the extra features department.
Platform Availability
The TorGuard VPN app is available on multiple platforms: Windows, Mac, Android, iOS, Linux, routers, as well as Firefox and Chrome. The list covers practically all platforms except for smart TVs and similar options, but they can all be protected if you install the VPN on your router.
The apps work perfectly regardless of which platform you're on and have pretty lightweight installation requirements, so they won't slow down your system in any way.
Customer Support
TorGuard offers 24/7 customer support via live chat, email, and the ticket system. In addition, you have access to TorGuard's knowledge base if you'd like to find solutions and answers on your own.
We are pretty happy with the assistance we received from the TorGuard VPN customer support team over live chat. The agents are both quick to respond and knowledgeable. However, the ticket system could use some work, but there aren't any irreparable issues.
How Does TorGuard VPN Compare to Other VPN Services?
TorGuard VPN
$9.99 - $32.99/month
Servers:
3,000+
Aplication:
NordVPN
$3.29 - 11.95/month
Servers:
5,300+
Aplication:
ExpressVPN
$6.67 - $12.95/month
Servers:
3,000+
Aplication:
TorGuard VPN Alternatives
There are dozens of alternatives to TorGuard, each with its strengths and weaknesses. In order to give you a useful assessment of where TorGuard stands, let's compare it to the two biggest VPN providers out there - NordVPN and ExpressVPN.
When making the TorGuard VPN vs. NordVPN comparison, the first thing that stands out is the latter's ability to effortlessly unblock streaming platforms. Nord also has more VPN servers (5,200+) in its network. On the other hand, TorGuard offers more simultaneous connections (12 vs. 6) and boasts speedier connections.
Things aren't very different when it comes to the TorGuard VPN vs. ExpressVPN showdown. ExpressVPN has more servers and is more effective in unblocking streaming services. Furthermore, the company offers its proprietary VPN protocol called Lightway. But TorGuard is still better with speed and torrenting.
Bottom Line
Our TorGuard VPN premium review leaves us with a positive impression. Its speed is unmatched, and its ability to protect up to eight devices with the basic plan is invaluable. Meanwhile, the wide selection of protocols offers a great dose of flexibility. On the other hand, TorGuard falls short in its capabilities to unblock streaming platforms. We would like to see the company become more transparent when it comes to its security and privacy systems.
FAQ
​​Is TorGuard a good VPN?
Definitely. TorGuard features great security, blazing speeds, multi-hop, port forward, and other extremely useful VPN features. However, TorGuard VPN isn't ideal for unblocking Netflix and other streaming platforms.
Is TorGuard better than ExpressVPN?
The answer depends on your needs. While TorGuard has a somewhat smaller server network and can't unblock streaming sites, it offers better connection speeds. When it comes to other features, the two providers are fairly similar.
What kind of VPN is TorGuard?
TorGuard is a no-logs, completely anonymous VPN that can protect your online activity and keep your identity hidden.
How fast is TorGuard VPN?
TorGuard VPN is one of the fastest VPNs on the market. You can expect to lose as little as 15% of your original speed. With TorGuard, you can get up to a 150 Mbps download speed.