PrivadoVPN Review
A superb VPN if you can get past the non-intuitive interface
DataProt is supported by its audience. When you buy through links on our site, we may earn a commission. This, however, does not influence the evaluations in our reviews. Learn More.
PrivadoVPN is a Switzerland-based company that joined the VPN fray in 2019. Despite having a shorter tenure than most VPN providers we've reviewed here at DataProt, PrivadoVPN has huge potential. This app boasts robust security features, state-of-the-art encryption, and excellent customer support. It's also great for streaming as it deftly avoids geographical restrictions to unlock any regional library you might want to access. The app's UI is severely lacking though, and often counter-intuitive to use.
In this PrivadoVPN review, we'll go over all of these features and more to see if this VPN provides good bang for your buck.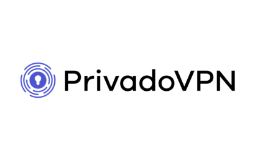 VISIT SITE
PRICE RANGE:
$0 - $30/year
AVAILABLE ON:
KEY FEATURES:
Number of servers: 200+
Maximum simultaneous connections: 10
Kill switch: Yes
Supported protocols: WireGuard, OpenVPN
Best Price: $2.50/month
Number of server countries: 46
Split tunneling: No
Ad blocking: No
Streaming services supported: Netflix, BBC iPlayer, Disney+, Amazon Prime Video
Best price: $4.99/month (annual subscription)
Pros
Unlocks popular streaming platforms like Netflix
256-bit AES encryption
Peer-to-peer support
Monthly free plan with 10 GB
Zero-logs policy
Cons
Needs more servers
User experience on the app could be better
Company Background
PrivadoVPN was created by Privado Networks AG, a cybersecurity company founded in 2019 in Switzerland. Deciding where to base operations is by no means a trivial thing for a VPN company, and Switzerland is one of the best locations to operate out of. That's because this European country has some of the most advanced privacy laws worldwide.
Features
In this section, we'll check the network potential and the average speeds of the PrivadoVPN app. We'll also analyze its security options, protocols, their effect on performance, and the ability to unlock well-known streaming sites. We've tested the VPN app on Windows, macOS, Android, and iOS platforms.
Server Network
PrivadoVPN has more than 200 servers located across 45 countries and 53 cities globally. It performs admirably for an up-and-coming VPN service that effectively avoids sites' geo-blocking features and provides a very competitive overall download speed.
That said, this app needs more servers to provide performance like StrongVPN, which has over 900 servers, or big names such as ExpressVPN that have thousands of servers. This VPN, however, does have more servers than most other up-and-coming VPNs.
PrivadoVPN servers might sit somewhere in the middle compared to all other VPN services, but they also have plenty of benefits. One of those is the strategic country placement, which means that servers cover all the most desirable places for a VPN to be located. You'll find servers in Germany, France, Argentina, Switzerland, Sweden, Japan, India, Singapore, and Iceland, among many others.
The other massive benefit is that all of the company's servers are physically located where they say they are on the app. This is an infrequent practice among VPNs, since many rely on virtual servers. Virtual servers are popular since they are easy to maintain and provide minimal speed losses over communication distances.
Because the company uses real servers, the PrivadoVPN download performance and ping might not be quite as impressive as those of competing companies. However, having physical servers improves data security and obfuscations, especially Switzerland servers backed by the best-implemented privacy laws from other countries.
Another benefit is that PrviadoVPN's servers have P2P support, making this app an excellent choice for torrenting with a hidden IP address.
Streaming
Netflix is notorious for seeking out VPN servers and blocking access to users. This is why every VPN has to prove its worth by bypassing Netflix's strict geoblocking protocol. PrivadoVPN not only manages to gain access to Netflix US, but it evades blockades for Disney Plus, Amazon Prime, and BBC iPlayer.
During our testing, PrivadoVPN had Netflix US and France unlocked with full access to movies and shows available in these regions in stable 4K ultra HD. Several other big-name VPNs struggled to gain access to Netflix, which signals another major victory for PrivadoVPN.
However, plenty of other VPNs allow streaming from Hulu and other streaming services. Unfortunately, PrivadoVPN could not gain access to Hulu, one of the most sought-after streaming sites. This VPN service also lacks support for dedicated IP addresses that are useful in blocking irritating CAPTCHA systems and unlocking streaming services.
Torrenting
PrivadoVPN and torrenting go hand in hand thanks to excellent P2P support, where you can connect in one of two ways. All available servers on the app can assist with torrenting.
One of the options is to employ a SOCKS5 proxy when you're downloading torrents. SOCKS5 hides your IP address while leaving your data intact to provide better speed performance.
Another way to download torrents with PrivadoVPN is via a standard PrivadoVPN network that not only hides your IP but encrypts your data. This approach increases torrenting protection significantly. However, it decreases download speed with potential delays. If you have the premium version, you can select one or both of these ways to torrent.
Kill Switch
Suppose you want to prevent the leaking of DNS on Privado VPN. In that case, this service has the ability to configure protection for DNS data leaking. It's done by sending all DNS queries through VPN-secured servers. We performed a series of extended tests for DNS leaking, including Privatus Ltd. tests. Every time we did so, the VPN servers managed to hide our actual IP address and server, leaving only the VPN server and makeup IP exposed.
The kill switch also does a remarkable job of preventing any data leaks to individuals or entities. It prevents personal data from being revealed when the VPN connection suddenly goes down. In such cases, the kill switch kicks in and immediately disables the internet connection to stop any data leakage.
You can quickly find the kill switch in PrivadoVPN's main window, and it worked exceptionally well on our tests. In fact, when we had short and frequent internet connection losses, a machine with PrivadoVPN and kill switch disabled the internet connection for a prolonged period. So yes, the automatic kill switch quickly recognized problems with the internet and did its job well.
Speed
To determine whether PrivadoVPN is fast enough, we performed many speed tests with the Ookla service. The number of VPN servers plays a massive role in maintaining high-performance levels. As mentioned earlier, around 200 servers is a middling number compared to other VPNs. But is it enough to provide a satisfying browsing experience?
We ran tests on our network without using VPNs to get a starting measurement.
Here are the results from the server in Frankfurt, Germany, recommended to us by the VPN app. We used the WireGuard protocol to get a good balance of speed and anonymity. As you can see, PrivadoVPN speed performance remained steady thanks to good its coverage of servers in this area and proximity.
We noticed the first significant drops in performance when connecting with the app's US servers. There are plenty of them available in the country; we were connected to the New York server and got a high ping, while the download and upload speeds were still good overall.
One of the furthest servers from our location is in Mexico City. It's here that the download performance was down by 50%, with a steady upload speed and very high ping.
Users with the PrivadoVPN free version have access to far fewer servers than the premium package, meaning the speed disparity will be even more significant. As you can see, using distant servers did cause a sharp deterioration in the connection quality. This is a substantial drop in speed compared to the biggest VPNs, placing PrivadoVPN somewhere in the middle of the pack.
This VPN performed well in daily tasks, especially with streaming. We didn't experience any buffering or delays when watching movies on Netflix or documentaries on YouTube.
Gaming
We had no problems playing popular multiplayer games when we connected to the closest VPN servers. Even on distant servers with higher pings, with PrivadoVPN, our online gaming sessions had minimal lag, which didn't affect our fun much. We found plenty of VPN servers with pings lower than 150 that were great for gaming without freeze-ups.
Protocols
PrivadoVPN relies on the highly sophisticated 256-bit AES encryption to obfuscate private data, a protocol that has proven to be the best on the market. The app also uses SHA256 for hash recognition.
With the latest updates, users can now activate the WireGuard protocol, a fast VPN protocol that's the most advanced currently available. You'll also find IKEv2 and OpenVPN protocols in the PrivadoVPN specifications.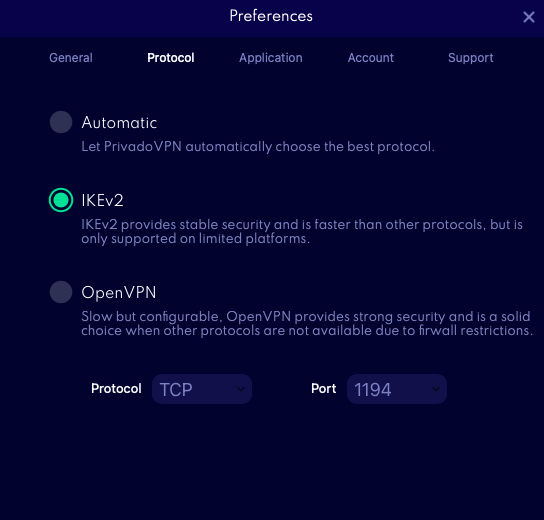 IKEv2 is another fast protocol that might cause issues on some networks. OpenVPN comes in two options – OpenVPN (TCP) offers a solid balance between security and speed that has weaker performance than WireGuard. The other option, OpenVPN (UDP), is the best solution protection-wise, and both options will work well on nearly all networks.
Keep in mind that not all operating systems have access to the same lineup of protocols. The Windows version of PrivadoVPN is compatible with all the included protocols as well as WireGuard, which is still in the preview phase. However, in the encryption settings for the macOS version, you won't find the WireGuard protocol at all. Unlike the PrivadoVPN Windows version, the macOS app doesn't have the option of using OpenVPN scrambling to hide traffic related to this protocol, which some countries actively search to disable.
Zero-Logs Policy
The company's privacy policy looks promising, since PrivadoVPN claims to follow the strict ideas and guidelines set out in Switzerland's privacy laws. And thanks to the internal zero-logs policy, PrivadoVPN assures us that no logs are being kept on the company's servers. In the unlikely case of a police inquiry, PrivadoVPN cannot deliver anything, including information obtained from the dark web.
However, the company has not published independent audits or user data protection reviews, which is why we have to take PrivadoVPN's word for it. And even with the zero-logs policy, this VPN service does definitely gather some data.
According to the PrivadoVPN privacy policy, you'll have to provide an email to create an account. The mobile version of PrivadoVPN gathers crash reporting libraries and device identifiers if the app experiences hiccups. Still, the data collected does not point to IPs or users directly and provides better security than several other notable VPNs.
Platform Availability
This VPN app is available for Windows and macOS with a subscription that includes 10 devices. The same goes for smartphone users with PrivadoVPN Android, iOS, Fire TV, and Android TV apps.
Privado VPN has excellent platform coverage that outpaces a few other VPN players. The only operating system with a substantial number of users that is missing here is Linux. We hope that there will be support for this system in the future.
Interface and Ease of Use
The app uses a 300-by-400 pixel interface that is small but not cramped. You'll quickly find all the basic options to select a server and activate the VPN, along with the kill switch, which you can toggle on or off. At the bottom of the PrivadoVPN encryption app's interface, you'll find the remaining GB available if you're using a free account.
Navigating through servers requires more work than necessary since you're still stuck in a tiny interface window and have to wade through many servers by country and city. Thankfully the Settings menu in the upper-right corner of the app is much more usable.
In the Settings menu, you'll find the standard VPN options such as activating the kill switch and the Auto Connect feature, which connects to the user's preferred server as soon as the app is live. You'll also see the VPN protocols section with the list of available protocols that differs depending on the operating system.
The PrivadoVPN support submenu has a crash reports section you can activate. It only gathers data pertinent to sudden shutdowns or a failure within the app, with no personal info included. You can contact customer support, which will lead you to the FAQ website.
In the Accounts section, you'll find elementary user and subscription information. And the Application submenu has an auto-start button with an option to dock the app and update it automatically. In general, the Settings menu is easy to navigate with basic options. However, more advanced features and security fine-tuning are not present.
One of the features missing is PrivadoVPN split tunneling. This VPN feature allows the user to select which sites will go through a VPN connection and which reliable web pages can run without a VPN.
The Windows app has a tendency to automatically close to the taskbar menu when we click on anything but the VPN service. This behavior can be a source of severe frustration, especially if you multitask several apps or documents along with this VPN. The Mac version does not have this issue.
Customer Support
As this is a detailed PrivadoVPN review, we have to talk about customer support. Besides looking through the FAQ page, you can reach customer support agents 24/7 via the ticket system on the website.
PrivadoVPN Pricing
One of the subscription levels includes a free version that outmatches many VPNs' free offerings with great features and limits. You only need an email and password to open an account, for starters. Then there is the selection of the 12 most prominent servers across the world with one connection. They belong to the same network that Premium users enjoy.
With the free version, you also get a monthly bandwidth limit of 10 GB. To put this into perspective, TunnelBear offers 500 MB, while ProtonVPN is one of the rare few options that provides unlimited bandwidth free of charge.
PrivadoVPN Premium comes in monthly and yearly payment plans. Customers can choose between paying $7.99 for a monthly plan or committing to a yearly plan – $30 in total. The monthly subscription is on the more expensive side, approaching the prices of the elite VPN services that have much more to offer.
However, the annual subscription is quite fair, as it works out to be $2.50 per month (a special deal available to DataProt readers). PayPal, Visa, Mastercard, American Express, and Discover cards are accepted as payment methods.
The Premium service offers up to 10 concurrent connections, unlimited bandwidth, a 30-day money-back guarantee, and over 200 servers in 58 cities. The free and premium versions share features such as P2P-capable servers, streaming support, and a no-logs policy. Overall, the PrivadoVPN subscription is pricey but fair for both paying and free customers.
Bottom Line
PrivadoVPN is not only an excellent choice for streaming and torrenting, but PrivadoVPN customer service is also on par with our expectations. Where it falls slightly behind the market leaders is its number of servers and speeds. We see a bright future for this VPN service, but there are superior VPN solutions on the market right now.