HideMyAss Review
This Tunnelbear-inspired VPN has a lot of qualities, but a spotless privacy history isn't one of them
Updated: April 11,2022
DataProt is supported by its audience. When you buy through links on our site, we may earn a commission. This, however, does not influence the evaluations in our reviews.
Learn More.
If you are looking for a VPN that will keep you protected and help you stay anonymous online, you might want to check out HideMyAss (HMA). It has been marked multiple times as best for streaming, has an astonishing number of servers, and a cute donkey for an ambassador.
We know, we know… "Avoid this VPN" is what almost every HideMyAss review on the web says. However, is this justified?
Although the company might have made some bad choices in the past, we consider it water under the bridge and would certainly give it another shot. We believe HideMyAss has learned a lot over the course of 15 years, turning into a commendable VPN service.
Let's dive into this topic deeper to see whether HMA would be worth your money, regardless of the word on the street.
HideMyAss
VISIT SITE
PRICE RANGE:
$2.99 - $7.99/month
AVAILABLE ON:
iOS
Mac
Kodi
Linux
Chrome
Android
Netflix
Torrent
Windows
KEY FEATURES:
Number of servers: 1100+
Number of server countries: 210+
Max. simultaneous connections: Up to 10
Split tunneling: yes
Kill switch: yes
Ad blocking: yes
Supported protocols: OpenVPN®-TCP, OpenVPN®-UDP
Streaming services supported: Netflix
Price range: $2.99-$7.99/month
Best price: $2.99/month
Pros
30-day money-back guarantee
Logs deleted after 35 days
DDoS protection
P2P-optimized servers
Ease of use
Cons
Doesn't unblock all streaming services
History of sharing collected data
Located in an FVEY country
HideMyAss VPN Pricing
First, let's go over the HMA VPN pricing plans. Just like with plenty of other VPN providers, the longer the subscription period, the better deal you will get. Currently, the pricing plans the company offers are as follows:
Up to 5 connections:
12-month plan – $4.99
36-month plan – $2.99
Up to 10 connections:
12-month plan – $7.99
24- month plan – $6.99
36-month plan – $5.99
If we were to judge by the monthly subscription, which people are usually most comfortable with, this VPN is slightly on the pricey side. On the upside, the three-year plan is very reasonable – if you are ready to make such a commitment.
There is also a 7-day trial version if you'd prefer trying out HideMyAss for free first. To find this offer, you'll have to go through the site's downloads section, as it is not presented on the homepage. If you need a longer test run, you can opt for the 30-day money-back guarantee offer.
HideMyAss also offers custom pricing plans for businesses and accepts more than 25 payment methods, which is impressive for a VPN provider.
Ease of Use
HMA is famous for its ease of use and simplistic setup. The download process is very quick, and the website provides detailed guidelines on how to install the VPN. The manual covers all the platforms and also includes instructions on how to set up the service manually.
First of all, just by visiting the HMA website, you'll be able to find many free tools that don't require any setup, such as an IP Checker and a DNS Leak test.
Currently, you can get HMA as a VPN browser extension for Chrome and Firefox, accompanied by an ad blocker. Apart from that, you can download HideMyAss and install it on Windows, macOS, iOS, Android, and Linux devices, or directly on your router or Android TV. Through a router, you can also use HMA VPN for Apple TV, PlayStation, Xbox, Nintendo Switch, and more.
Once installed, the app is very easy to grasp. A simple toggle button provides everything you need to start browsing with HideMyAss safely. If you click on the button repeatedly, you'll also see all the amusing variations of the site's mascot, Jack.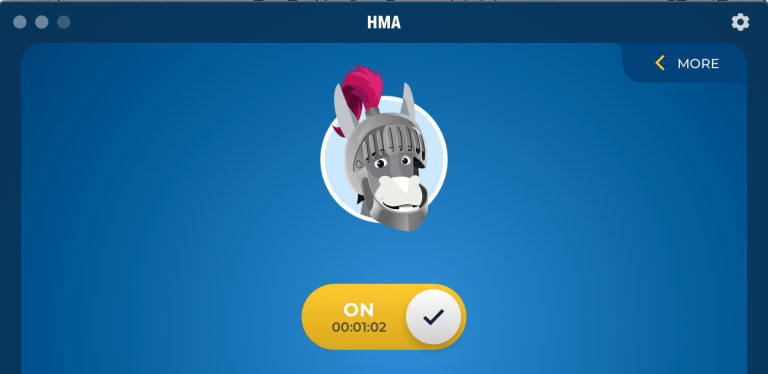 Features
For this HideMyAss VPN review, we've tested both the macOS version of the software and the browser extension.
On the initial dashboard, apart from checking out all the donkey's cool outfits, you can see your actual IP address as well as the newly assigned (fake) one. Moreover, by clicking on the refresh button on the right, you'll be able to change the IP address as many times as you want. Below, you will see your "current location" and another button to change it.
From the More tab in the upper right corner, you'll get to the program's preferences, where you can enable the kill switch, take advantage of the app's available speed tests, and easily check your data traffic.
Another feature that shouldn't go unmentioned in our review on HideMyAss VPN is the possibility to automatically shuffle the IP address – a neat additional safety precaution.
Server Selection
With an extensive list of more than 1100 servers in almost 300 locations and over 200 countries worldwide, switching from one server to another could seem tricky. Luckily, the HMA's well thought-out interface makes the navigation through HideMyAss servers a walk in the park.
All the locations are neatly listed and categorized by country, making switching between them quick and hassle-free. Just look to your left, and you'll see the list of continents in the sidebar. You can easily select the closest one to your actual location, or connect to a specific server that will unlock the content you need. Narrowing your search to specific countries is effortless, meaning you don't have to scroll endlessly to find the one (which is, unfortunately, the case with plenty of HideMyAss alternatives).
To make the search even easier for you, HideMyAss software includes a search bar, as well as the Recent and Favorites sections. To save your preferred servers for later use, all you need to do is "heart" them. If you are specifically looking for streaming-optimized and P2P-friendly servers, they have their own tabs, so you won't have to bother figuring that out, either.
Devices
As mentioned before, you can install HMA on almost every device, regardless of the operating system it runs on. However, there is a limit of up to five devices using the VPN at the same time.
In case five simultaneous connections are not going to cut it for you, don't worry – you can opt for one of the HMA subscription offers for businesses. With the most comprehensive business plan, you'll be able to connect up to 30 devices simultaneously. HideMyAss also offers custom-tailored subscriptions, meaning you can create a plan that will suit your particular needs. However, it might not be the cheapest way to obtain multiple connections, especially considering that some other VPN providers don't limit the number of active devices at all.
Performance
We've tested a nearby HMA server, and the results matched our high expectations – our initial download speed was reduced by no more than 4%. Gamers would probably appreciate that our test came up with an impressively low latency of 30-40% for almost all tested locations.
Browser Extension
The other solution that we've looked into for this review, the HideMyAss browser extension, comes equipped with a set of features worthy of a mention.
First off, you can take advantage of the Auto Disguise feature that lets you set location rules for each website you visit using HMA VPN. In other words, you can have the VPN automatically connect to a specific server depending on the page you are about to open.
Another notable feature is Tab Killer, which hides all active tabs and replaces them with a safe web page of your choice. VPN HideMyAss can also help out if you are worried about WebRTC. Its WebRTC Blocker feature, as the name suggests, blocks real-time communication between web browsers, preventing thus your IP address from being exposed in any way.
Privacy and Security
Although there are some deterrents to HMA's privacy, the positive aspects are numerous and shouldn't go unnoticed. Below, we've examined both the good and the bad sides of this VPN's security policies and features.
Free Proxy
Even without an HMA subscription, you can use the HideMyAss free proxy service to access a site privately. All you have to do is insert the address of the site you want to visit into the designated field, select a server through which you'd like to connect (or let the software choose one randomly), and you are good to go.
However, this is a free service and, as such, it's very limited. You can only browse privately through that one page you've initially selected, and the protection doesn't extend to any other open tabs, either. Moreover, the proxy doesn't keep your bank accounts safe, and you can't use it for streaming purposes. Overall, our review on HideMyAss proxy has brought us to the conclusion that this service, although a welcomed one, is not a proper replacement for a good VPN.
Excellent Encryption
On the bright side, the VPN's encryption technology is more than satisfying. HMA uses 256-bit AES encryption, paired with OpenVPN protocol for Windows and Android, and IKEv2/IPsec for macOS and iOS.
Split Tunneling
Split tunneling still doesn't come naturally to all VPN providers, but with HMA, it works like a charm.
This networking concept lets you choose where you want your VPN active and where you don't need it. You can switch between your connections seamlessly, accessing various content using multiple locations simultaneously. At the moment of writing this HideMyAss review, split tunneling was available only for Android.
Kill Switch
Kill switch is an essential feature of every good VPN. In case the VPN server you're using collapses, it serves as a safety net, stopping all data transfers until the private connection is restored.
DNS Leak Protection
DNS leak protection is another privacy-centric ingredient of this VPN. Each of the servers is encrypted to prevent your DNS requests from being revealed. If you're not convinced, you can always check your protection level by employing the HMA DNS leak test tool.
IP Shuffle
Hiding your IP address is a standard way to discourage potential intruders. IP shuffle does that amazingly, changing your address throughout a session. The feature is available in the HideMyAss free trial version, so you can take it for a spin first to see if it does the job for you. The IP address can change automatically as often as you like – daily, hourly, or even every ten minutes.
No-Log Policy
This is one of the sectors where HideMyAss has significantly improved. In August 2020, this VPN provider's no-log policy went through an audit by a cybersecurity consultancy VerSprite, after which HMA received a low-risk user privacy impact rating.
Lulzsec Fiasco
Now that we have mentioned the no-log policy, you might be lifting your eyebrows. Yes, we know about the data fiasco, which has gathered enough controversy around HideMyAss VPN to last a lifetime. Deciding to hand over logged data to the authorities, which helped apprehend certain alleged hackers, set off a public backlash, resulting in HMA losing credibility among its users.
Naturally, people should always have the right to know if and how their data is collected, stored, and used. HMA has learned its lesson and now explains the entire process in its blog post titled "Lulzsec fiasco." After inspecting it in detail for this VPN HideMyAss review, we can safely say it represents an excellent step toward transparency, looking back on the past mistakes while clearly outlining the actions taken since to make up for them.
Of course, you should still give the privacy policy a thorough read and decide for yourself whether you are comfortable with the type of data collected and the general terms of use.
Torrenting with HMA
Now that we know this VPN has taken the necessary steps to protect its users, it's time to take a look at HideMyAss' torrenting options. Although it's nice to know this kind of service is available, you should be aware of the drawbacks that come with it.
First of all, HMA is unpredictable when it comes to torrenting safely. While its P2P servers are promoted as torrent-friendly, the users have complained about being suspended due to the violation of the Digital Millennium Copyright Act (DMCA). On top of that, torrenting is supported only on five server locations – Prague, Frankfurt, Amsterdam, London, and New York.
All things considered, we wouldn't recommend this VPN for your torrenting needs, despite the incredible speeds and the no-log policy. However, if you are looking to torrent non-copyrighted content, you should be good to go.
Streaming
HideMyAss VPN makes up for the torrenting issues with its capabilities streaming-wise. With plenty of servers and astonishing speeds, you'll be able to stream to your heart's desire. Yes, you can use HideMyAss to unblock Netflix, and you should have no problems accessing all the content from wherever you are. The company suggests resorting to the Donkey Town UK server for these purposes, as well as for watching BBC iPlayer.
You can employ HMA for streaming Amazon Prime as well, but the service can be a bit unreliable in this case, especially if you use a US Amazon account. With a British or German account, though, you shouldn't encounter any problems.
All in all, after a detailed HideMyAss VPN service review regarding accessing blocked websites, we were a bit disappointed, as we expected much more from this provider. For instance, we didn't have any luck unblocking Disney+, so if you're a fan of Marvel's TV shows, you might want to start searching for VPN alternatives.
However, if the available selection is good enough for you, HMA will provide outstanding performance otherwise, as its servers are optimized for streaming.
Customer Support
In case you need help, the site's live chat widget can come in handy. It serves not only as a means of contacting customer support agents but also as a search tool. Just type in the keywords, and the possible solutions will pop up. For the purposes of this VPN review on HideMyAss, we've tested this feature and found it very useful for getting answers to general queries. That said, if you're dealing with a specific problem, you'd be better off using the widget to get in touch with the support team directly.
HideMyAss customer service agents are very responsive, knowledgeable, and happy to help. Furthermore, the team is entirely in-house, which always tops the quality of outsourced alternatives. The remaining support options are consulting the HMA's knowledge base, submitting a ticket through the website, or asking the VPN's user community for advice.
How HideMyAss Has Changed Over Time
Once upon a time, HideMyAss was the best new thing on the market until the Lulzsec fiasco struck in 2011. Still, it didn't break this donkey, and a quick HideMyAss search on Google assured us that it continues to improve its services and pays extra special attention to user privacy these days. As of April 2020, their complete no-logging policy means they won't know your originating IP address and will only have a rough idea about connection times and a ballpark estimate of how much data you've transmitted during your VPN connection. The site doesn't hide how it came to this type of security policy and goes in great detail to explain to customers just how the VPN system the company is selling works.
How Does HideMyAss Compare to Other VPN Services?
HideMyAss
$2.99 - $7.99/month
Servers:
1,100+
Aplication:
NordVPN
$3.69 - $14.9/month
Servers:
5,600+
Aplication:
IPVanish
$3.75 - $12.99/month
Servers:
1,900+
Aplication:
The VPN nowadays market has a lot to offer, so finding the right product is not as simple as it once was. Let's see where HMA stands against the competition.
IPVanish vs HideMyAss
The first stop is the comparison with IPVanish, as these two VPNs have similar features, such as a kill switch, similar speed results, and extensive server networks. IPVanish offers more servers, but HMA has servers in more countries. IPVanish supports more protocols, and allows coverage for an unlimited amount of devices, compared to HMA's maximum of ten. It's also slightly more expensive, with its starting price of $3.75 per month on a one-year plan.
IPVanish is the VPN you should consider for streaming, and its ability to unblock Netflix, HBO Go, and Disney+, tops HMA's hit and miss results with just Netflix. However, if you are looking for a VPN to do some torrenting, they are both underwhelming in that department.
NordVPN vs. HideMyAss
There aren't many VPNs that could challenge NordVPN's speed test results, features, and the number of servers for $3.67 or less per month (the current price of NordVPN on a two-year plan). HideMyAss manages to match at least some of these features, with quick servers located in over 210 locations around the globe, and an even cheaper price ($2.99 per month). On the other hand, it is less secure and worse off for torrenting compared to NordVPN.
HideMyAss Review – Bottom Line
As with every other VPN, its suitability depends entirely on what you plan to use it for. As we've discussed previously in this HideMyAss review, if you are looking for a VPN that would help you unblock streaming services such as Netflix, then HMA is your guy.
The top-notch protection features also make this VPN an excellent choice for safe, day-to-day browsing without worrying about getting hacked. However, if you need to establish a protected network connection to torrent, you might want to look elsewhere.
If you are willing to make a long-term commitment to a VPN service instead of renewing your subscription every month, HideMyAss' price is quite acceptable. On the other hand, the company limits the number of simultaneous connections, even if you go for the priciest plan.
If you're still on the fence, you can try out HMA for free for up to a month to see whether it's the right fit for you.
FAQ
How much does HideMyAss cost?
HideMyAss costs $11.99 monthly if you decide to use it on a per-month basis. If you commit to a three-year subscription, though, you will get a generous discount that will bring down the price to $2.99 per month.
Does HideMyAss work with Netflix?
Yes, you can use HMA to unblock Netflix. However, it doesn't provide access to Disney+ or Amazon Prime US.
HideMyAss is perfectly safe for your day-to-day browsing and streaming, although we would not recommend it for torrenting.
How do I turn off VPN on Netflix?
Using VPN only for particular websites and apps can turn into a real hassle, as you usually have to turn it off and on again manually. HMA, however, lets you set up various connection rules, making it possible to exclude Netflix from the private connection while staying anonymous on other fronts.
No free version of HMA VPN was available at the moment of writing this HideMyAss review. There is a free 7-day trial available, though, as well as a free HMA proxy service you can use regardless of subscription. Also, the company offers a 30-day money-back guarantee, so you don't have to worry about not having enough time to test the software properly.