EaseUs MobiMover Review
The best mobile data transfer software out there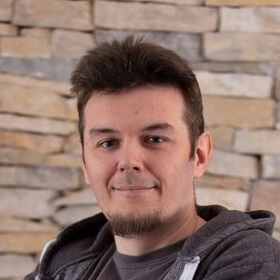 Updated: June 02,2022
DataProt is supported by its audience. When you buy through links on our site, we may earn a commission. This, however, does not influence the evaluations in our reviews.
Learn More.
Young or old, chances are mobile devices have become an essential part of your everyday life. They store our personal information, including our pictures, videos, music, bank account details, photo IDs, etc. Of course, we want to keep those files safely stored and backed up, just in case something happens to our mobile device.
That's where this excellent tool comes in. MobiMover reviews all of your data and transfers it harmlessly from your phone or tablet to another device. If you are one of those users that aren't exactly tech-savvy, it's important for you to find a phone transfer tool that is not too challenging to use; that's precisely why you should get to know MobiMover a little bit better.
EaseUs MobiMover
VISIT SITE
Price Range:
$0 - $369/year
AVAILABLE ON:
iOS
Windows
KEY FEATURES:
Available for: Windows, iOS
Number of transfers: Unlimited (with paid plan)
Number of devices: multiple devices
Phone Backup: Yes
Free version: Yes
Technical support: Yes
Money-back guarantee: 30 days
Pros
Feature-filled free plan
User-friendly software
30-day money-back guarantee
Extensive website knowledge base and helpful customer support
Cons
20-file daily limit on the free plan
Works only on iOS and Windows, no Android support
What is EaseUs MobiMover?
MobiMover offers an easy – and perhaps free – way for you to backup your device and transfer your desired data to or from an iPhone, iPad, tablet, PC, or Mac. The first thing you'd probably like to know is that you can get this app for no charge. What's also important is that our own analyses, as well as numerous customer reviews of EaseUS MobiMover, show that this software is reliable, user-friendly, and an efficient option for managing your data between devices.
This data transfer app will let you make copies of your files and move them to your computer, a backup phone, or a new device you're just adding to your network. The whole process is as streamlined as possible, so you don't have to worry about whether you'll be able to transfer your photos, music, or even WhatsApp messages from your old device.
Let's review MobiMover together, feature by feature.
Main Features
These are the standout possibilities MobiMover offers:
Transfer data from an iPhone to a Mac or PC seamlessly. This will help you keep all your files backed up and free up storage space on your mobile device.
Transfer data from one iPhone to another. It will take only a few seconds to move the files from your old iPhone to a new one, and you do not have to worry about data loss.
With MobiMover, you can download YouTube videos using its free downloader app.
Manage your iOS data from your PC: You can use your PC to view or delete your photos, videos, contacts, and other files.
Manage your social media apps: Use the specialized WhatsApp backup feature to save your entire chat history or move individual chats from one device to another.
MobiMover Pricing
There are three options for subscribing to MobiMover. The first one is free, while the other two come with a fee, but they also include additional MobiMover features.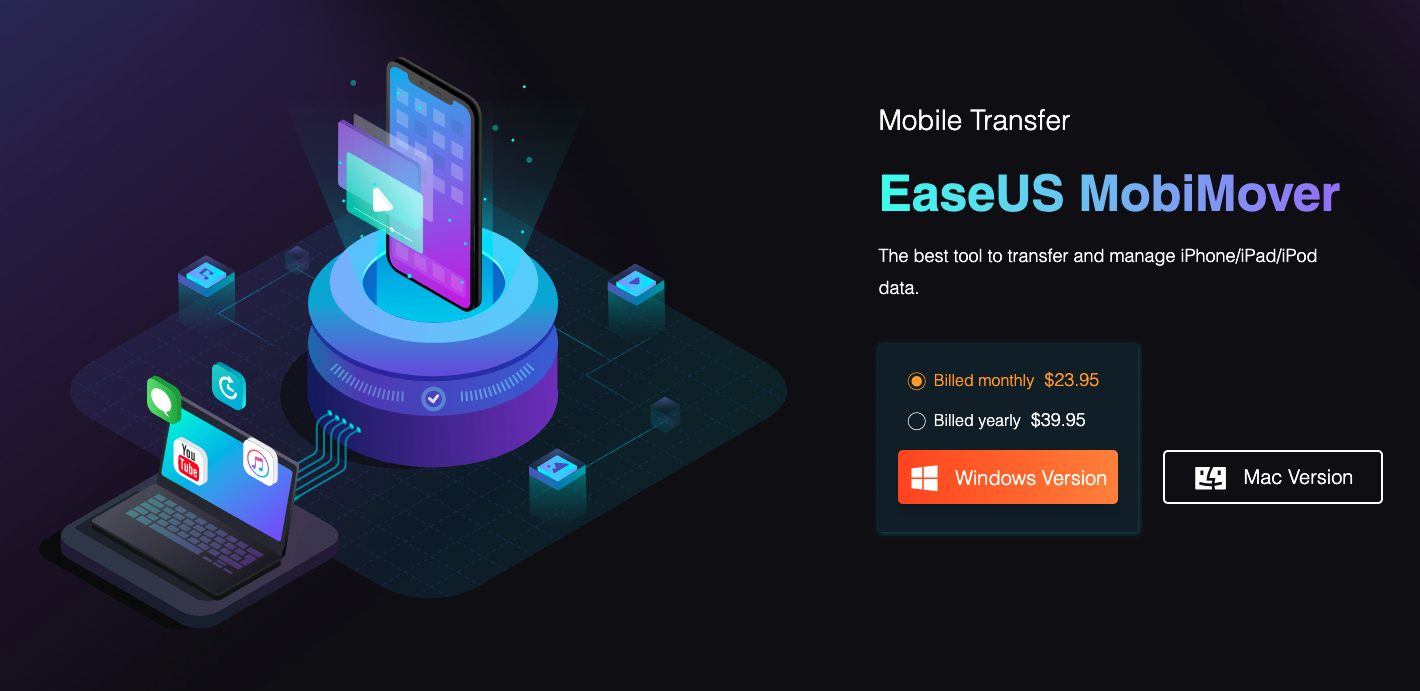 As displayed, the aforementioned three options are Free, Pro, and Technician.
The first option is a MobiMover free plan, and it contains all the basic features. With it, you will be able to manage and transfer data between devices. However, be advised that there is a limit of 20 files per day on this plan, so any extensive backups will have to be sectioned.
The MobiMover Pro option includes all the essential features but also has some more advanced ones. MobiMover Pro reviews and transfers however many files you want it to, without any limits. One license can be used on three devices, with 24/7 technical support. It's worth mentioning, though, that the pricing is different depending on whether you're a macOS or Windows user:
MobiMover Pricing for Windows:
$23.95 for a monthly license
$29.95 for an annual license
$69.95 for a lifetime license
MobiMover Pricing for macOS:
$29.95 for a monthly license
$39.95 for an annual license
$79.95 for a lifetime license
The EaseUS MobiMover Technician would cost you $369 per year and works only on Windows. Also known as MobiMover Business, it reviews and transfers your data the same way a Pro app would, but it works best for IT companies, as you can use one license across an unlimited number of devices. This option incorporates all the previously mentioned features and, on top of it, you would be able to unlock any iOS screens linked to your PC.
All plans come with a 30-day money-back guarantee.
Ease of Use
MobiMover ensures a straightforward and pleasant installation process and user experience.
To install MobiMover, go to the official EaseUS website. Once you pick your preferred subscription option and provide payment details, you will receive a license code for activating the software.
iPhone Data Transfer
Let's see how MobiMover's primary function works in just a few steps:
In the MobiMover interface, select the 'Transfer Function' button and choose between transferring files from iPhone to PC, PC to iPhone, or iPhone to iPhone.
Select the files you would like to transfer.
Confirm your selection by clicking on the 'Transfer' button to initiate the process.
In case you have trouble with MobiMover, you can find detailed guides on the EaseUS website or contact MobiMover technical support. You can do so via email, live chat, or phone. For the latter two options, if the agents are not available at the moment, you can leave them a message, and they will contact you as soon as possible.
How Does MobiMover Data Management Compare to Other Similar Products?
MobiMover's primary function is to help you transfer data from one iPhone to another or to transfer data from an iPhone to a PC or Mac. But, MobiMover is not the only product that you can use for data management. There are similar products that enable seamless data transfer from iPhone to other devices – mobile phones, tablets, and computers. We compared MobiMover to two other products, iMyFone, and AnyTrans. Here's what we found:
iMyFone vs MobiMover
iMyFone is a one-stop data transfer product for over 100,000 users worldwide. The software is available in six languages and allows users to transfer up to 18 types of data. iMyFone's main advantage is that it enables transfers from iPhone devices to Samsung phones and from Samsung or Huawei devices to an iPhone. Unfortunately, for MobiMover users, data management is not available on Android devices.
When it comes to other tools and features, iMyFone doesn't offer anything more than you get with MobiMover. There's also an iPhone data backup and restore tool, but you can get it for additional costs.
AnyTrans vs MobiMover
With AnyTrans, you get data transfer from iPhone to your computer, complete migration of iOS data from one iPhone to another, as well as data transfer across iPads and iPods. Additionally, you can transfer data from Android to iOS. Recently, the company upgraded the backup feature so you can choose between complete or incremental backups.
MobiMover is an easy-to-use data transfer tool, but AnyTrans beat it in this area. It has an incredibly initiative interface, so even complete technophobes can use it easily. You'll get more control over data transfers. For example, you can create different categories of photos/ videos and export them separately to your computer.
MobiMover Recent Upgrades
The most recent upgrades that you get with the EaseUS MobiMover pro plan include Youtube downloader and screen unlocker, the features that we already mentioned in our review. The team behind MobiMover constantly works on the software updates, so we can expect new features soon.
Customer Support
MobiMover has excellent customer support, available via live chat, phone, and email. Also, there is an extensive knowledge base on the website, housing a lot of useful information. If you subscribe to the paid version, you'll also get 24/7 technical support.
Final Word of Our MobiMover Review
After looking at all of the MobiMover options and perks, we can only say we highly recommend it. MobiMover has made data transfer, backup, and recovery exceptionally easy – it's considered one of the best iPhone backup software options with good reason.
FAQ
Is EaseUS MobiMover safe to use?
Reviews of MobiMover – ours included – are unified in stating that this software is safe. You shouldn't be worried about any potential security failings.
What is the best iPhone transfer software?
If you are in need of iPhone transfer software, MobiMover is definitely one of the best options on the market. It might seem a bit costly at first, but its impressive features warrant the price. There's always the free plan, too.
Is EaseUS MobiMover free?
MobiMover comes in three different options, and one of them is a MobiMover free plan. It includes all the basic features, but if you need constant support availability, or maybe want to use it on an unlimited number of devices, you would need to pay for either a Pro or a Technician plan.
How does EaseUS MobiMover work?
MobiMover is software you can use to manage, transfer, or delete files from your iPhone device by connecting it to a PC, Mac, or another iPhone. Besides that, you can also use it to download videos from YouTube or unlock iOS screens. It's an excellent way to backup your data or free up some phone storage space. MobiMover reviews and backs up your files, keeping them safe from any potential data losses, even on the free plan.