Driver Easy Review
Quick & easy 1-click driver updates, but the free version could be a bit more generous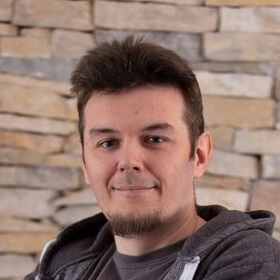 Updated: March 25,2022
DataProt is supported by its audience. When you buy through links on our site, we may earn a commission. This, however, does not influence the evaluations in our reviews.
Learn More.
With Driver Easy, gone are the days of having to chase less supported drivers from official sites to get your computer or a laptop ready after a fresh install. Never again will you have the wrong driver installed or will installation fail for some inexplicable reason, leaving you in a pickle. Now, driver installation and updates are no longer the stuff of nightmares.
Driver update software solves any driver-related problem and makes the whole process simple and automated. And if you're wondering which one is for you, the feature section of our Driver Easy reviews should put that question to rest.
There's a good reason why this driver updater software has millions of users. While automatically scanning your system for new drivers and listing all the drivers you can update with a mouse click, it proves itself to be effortless to use. This app has a lot to offer, but there are some caveats you should be aware of. Read on for the full story.
Driver Easy
VISIT SITE
Price Range:
$29.95/year/1-PC - $795/year/100-PC
AVAILABLE ON:
Windows
KEY FEATURES:
Can update all drivers one at a time or with a single mouse click
Automatically spots drivers with issues and installs new drivers
Huge drivereasy.com database of 8,000,000 certified drivers
Automatic restore points: back up installed drivers and restore them if needed
Number of languages supported: 14
Download size: 4.95 MB
Installation size: 14 MB
Driver download speed: 40-80 KB with Free and 500 KB to 20 MB with Pro version
Pros
Large driver database
Easy-to-use interface
Schedule your driver updates
Easy on system resources
Fixes incompatible and conflicting drivers
Cons
Lots of features locked behind the Driver Easy Pro version
Below-average download speed in the Free version
Driver Easy Pricing
First of all, let's address the elephant in the room. There are two versions of Driver Easy to download and use. The Free version offers a couple of useful options for scanning drivers, updating them manually, checking your hardware info, and running an offline scan. For many other valuable options, you'll have to turn to the Pro version.
The Pro version comes with a one-year subscription, and the price depends on how many computers the license includes. For a single computer/laptop, the Pro version costs $29.95 per year. The annual license for 100 computers, which is ideal for corporations, will set you back $795.00.
An important part of all Driver Easy reviews is analyzing the company's pricing model. At the time of writing this review, the three-PC license was reduced to $29.95/year – the standard yearly price is $59.95.
These per-computer prices are good, and in general they're on par with what other driver installer companies offer. It's a good offer if you want hassle-free driver management, and the 100-PC plan in particular could be an excellent option for large companies. That way you'll save system administrators and employees from pulling their hair out in frustration over one failed driver update.
Installation Process & User Interface
The installation of Driver Easy on Windows 10 is quite simple and straightforward. From the main site, click on the "Free Trial" button in the upper-right corner to start downloading the Free version of the software. The executable installation file supports nearly all Windows operating systems starting from Windows 7. It's also compatible with both the 32-bit and 64-bit Windows 10 systems.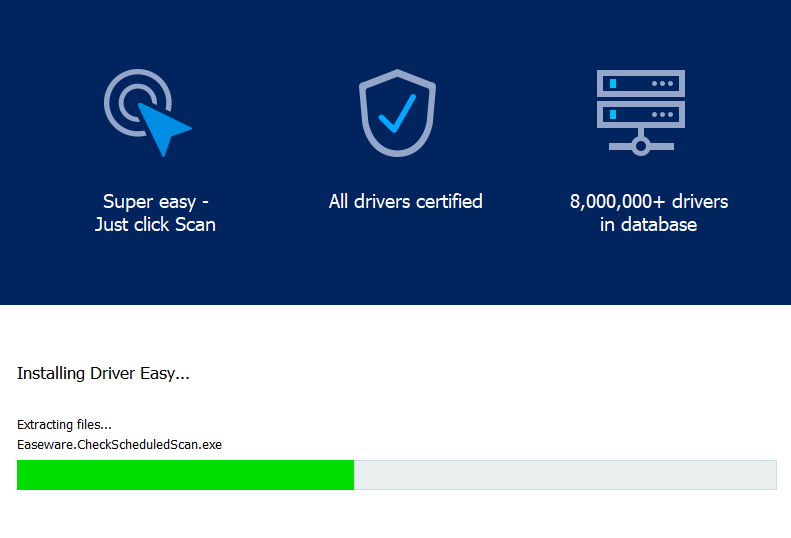 We used the following machine to test the installation process and the app itself: Intel processor i5-4690K working on 3.50 GHz, 16 GB of memory, Western Digital 320 GB SCSI HDD, and 64-bit version of Windows 10.
The executable file was only 4.95 MB in size, so the entire process to download the Driver Easy lasted only a few minutes. You select where you want to extract the app, and after installation you'll be greeted by the app's main window.
Suppose you're asking yourself: how does Driver Easy work? In that case, we have to emphasize that the entire app's design philosophy is to provide users with an easy and comfortable experience. From the main window, you can check which software version you are using in the upper-left corner. You can select "Scan" to search for available drivers for your machine. The driver search can last up to several minutes, depending on the computer.
If you're using the Driver Easy Free version, the next step is to click on the "Update" button and manually select which drivers you want to update. You can check driver information to compare different versions, delete the downloaded update, open the driver's file location, or hide the update entirely. There's a button to "Update All" drivers, but that only works on the Pro version of the driver scanner software.
Once you've selected a driver to update, you can create a restore point. It will save your earlier drivers as a backup if something goes wrong with the update, meaning that it can restore the last known working drivers.
Lastly, in the "Install Your Driver(s)" window, you can choose to perform an automatic or manual installation. The choice depends on what version of Driver Easy software you have, as does the speed; our average download speed when using Driver Easy Free was a meager 56 Kbps.
After this, you'll have to install the driver outside this driver updaters' app. When you're done, your system should run faster and without system errors. If something goes sour, don't fret. There are many file recovery programs like EaseUS, which is designed for Mac and Windows.
Features of Driver Easy Driver Updater
By now, there's a pattern emerging. Every step of the way, you're reminded that the Pro version is the way to go. Let's comb through the features of both versions.
Impressive Driver Collection & Ease of Use
When you download Driver Easy, you'll find that both software versions have access to nearly 8,000,000 WHQL certified drivers. This means both versions will scan and identify at least 50% or the old, missing, or incompatible drivers for your system. This vast driver database also offers detailed driver and device information. It can even detect unplugged and disconnected devices and install the latest updates for them.
No matter whether you're using the Free or Pro version, navigating through the various options is a no-brainer. Menus are focused and functional, and handling standard and advanced features will be a simple task thanks to the well-designed interface.
Light on System Resources & Operating System Compatibility
On our testing computer, Driver Easy Free used minimal system resources. The CPU usage was around 4.8% on average when conducting a demanding driver scan. Similarly, memory usage was constantly below 100 MB, making this driver update utility very light on system resources.
The operating system coverage is also decent, covering most Windows machines and both 32-bit and 64-bit architecture. The only drawback here is that other operating systems are not supported. Therefore users with macOS or Linux are out of luck if they want to use this powerful driver checking software.
Tweaking Options for Everyone & Offline Support
There's a slew of useful options and information you can get with DriverEasy, aside from scanning and updating drivers. Some of these tools are available to all users.
For starters, the "Offline Scan" function will help locate and install network drivers, and you won't need a network connection for this operation. The results of this scan will be saved as a .deos extension, which you can then upload back to get the required network drivers. These drivers will enable you to use the internet and download the rest of the missing or conflicting drivers.
Under the "Hardware Info" menu, you'll find all the relevant data regarding your computer hardware separated into neat component categories. These hardware overviews are very detailed and you can save them as a text file. Questions like "Is DriverEasy safe or good?" aren't necessary with all the available information and options this software can offer.
The "System Restore" function will create a restore point with all the backed-up drivers you use. That way, if the recent driver update causes any issues, you can use this restore point and reinstall all the drivers you previously had that worked. This feature is available in the Settings menu. You can automatically create a restore point before any new drivers are installed, or you can do so manually.
Speaking of restoration, the "Driver Restore" option is the other half of the restore point we mentioned earlier in this Driver Easy review. With it, you can restore your previously saved, working drivers if the current ones are causing problems. You need to locate restored driver files on your hard drive, and the Driver Easy Pro and Free versions will do the rest of the job. The driver restore option is available in the "Tools" menu.
All of the aforementioned capabilities are available for both versions of this driver updater app. They are excellent additions to an already compelling software solution. However, there are some options reserved only for Driver Easy Pro download users: "Driver Backup" and "Driver Uninstall."
Driver backup is a more advanced feature of the standard Windows system restore point. Here, you can choose which drivers you want to backup instead of backing up all of them with the restore point, a process that can take a lot of time.
Driver uninstall allows you to remove certain drivers – or all of them – from your system. The app may inform you that it cannot uninstall some drivers due to technical reasons. Both the Driver Uninstall and Driver Backup options are available in the "Tools" menu for Pro users.
Update Drivers the Manual Way or the Easy Way
Reviews of Driver Easy from users are very positive. Still, one thing that users repeatedly mention as a big letdown is the process of updating drivers itself. Yes, you can update drivers with the free version, one at a time on your own. But if you want to update all drivers automatically, you'll need the Pro version.
We hope to see an improvement in the download speed for driver updates on the Free version. Currently, on the Free version, download speed ranges from 40 Kbps to 80 Kbps, which is glacially slow.
On our testing machine that used Driver Easy Free to download drives, the average download speed was 56 Kbps. That meant it took nearly seven minutes to download a 23 MB driver, and the average driver is much bigger than this. As you can see, it could take a painfully long time to download all your drivers manually on the Free version.
Download speeds with the Pro version are between 500 Kbps and 20 Mbps. When you factor in much faster download times and update all your drivers with a single mouse click, the Pro version undoubtedly offers greater convenience and functionality.
How Does Driver Easy Compare to Other Products?
Dozens of Driver Easy reviews written by satisfied users claim that this is one of the best driver updater software products. Most reviews praise the software's user-friendliness and fast performance, as well as the option to scan and install drivers without a network connection.
This would be enough for many users to purchase the software immediately, but we want to show our readers how Driver Easy compares to other similar products before they choose to buy it. We've reviewed Driver Easy's main competitors, Auslogics, and Avast Driver, and here's what we found:
Driver Easy vs Auslogics
Auslogics is an Australian-based company that develops software products for Windows computers maintenance since 2008. It's an industry-leading software provider that helps Windows users optimize and clean their PCs.
According to user reviews, the program's effectiveness helped them speed up their computers and clean junk, freeing up more disk space. Its functionalities are similar to Driver Easy, but the software interface is more intuitive and easier to use. When it comes to pricing, Auslogics is generally cheaper, but Driver Easy sometimes has significant discounts. Driver Easy does have some cool features such as offline scanning and auto system backup with the ability to roll back to previous versions of your drivers easily.
Driver Easy vs Avast Driver Updater
Like any other Avast product, Driver Updater has thousands of satisfied users worldwide. It's intuitive and easy to set up the software, which is compatible with Windows 10, 8, and 7 computers.
In our tests, it outperformed Driver Easy in terms of speed and features. The program scans and finds old drivers and replaces them with new ones. It also detects missing and corrupted drivers and fixes any other driver-related issues. The backup and restoration tools are faster compared to the Driver Easy tools, and you also get malware protection.
However, Avast Driver Updater is expensive software. It doesn't have a free version, so you'll need to spend $39.99 per year to get just one PC license.
Driver Easy Recent Upgrades
We won't finish our DriveEasy Pro review without mentioning the latest version of the software. Aside from being bug-free, this version comes with many new features and tools. One of them is a roll back feature. If you have already installed a new version of a driver, but it doesn't work on your computer, you can go back to the previous one. You just need to select the "roll back" option, and within a few seconds, the old driver version will be available again.
You can now also uninstall drivers through Driver Easy instead of using Device Manager. The user interface has more user-friendly backup tools and enables you to copy hardware IDs faster.
Customer Support
The Driver Easy app is easy to use, but in case you need technical support, the company's team of experts will be there for you. The email support is fast and reliable. Alternatively, you can read the Driver Easy FAQ section to read about basic software features. The knowledge base is also helpful, and it contains lots of articles about this software updater.
Bottom Line
Our positive Driver Easy rating represents the overall good experience we had with this driver checker and updater software.
The Free version already offers a lot, with a massive driver database and ease of use that only a few other apps can boast. There's also a robust system restore point and the offline scan thrown into the already great mix. The Pro version offers all of this plus an added layer of automation and streamlining that will significantly speed up the process of updating all your drivers with a single click.
The price is just right considering everything you can do with this piece of software. And if you still have any doubts, the company behind this app offers a 30-day, 100% money-back guarantee if you're not content with the paid version of the app.
FAQ
Yes, it is an exceptional, safe, and simple Windows driver updater app, and among the best driver update software available on the market.
No, it is not a virus. The app offers WHQL-certified drivers. Just be sure to run the system restore point before updating your drivers. It will eliminate any problems if the driver installation process goes wrong.
There is a free version of the app, although it comes with some annoying constraints.
What is the best free driver updater?
As we've pointed out in our Driver Easy reviews article, this app, along with Driver Booster, is one the best free driver updaters available for Windows 10.
How can I use Easy Driver for free?
You can download the Free version from www.drivereasy.com.