CleanMyMac X Review
An all-in-one solution to keep your MacBook up and running.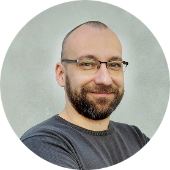 Updated: June 02,2022
DataProt is supported by its audience. When you buy through links on our site, we may earn a commission. This, however, does not influence the evaluations in our reviews.
Learn More.
Keeping your Mac operational isn't usually an issue with newer machines or those powered by M1 chips. Having loads of computing power typically trumps any concerns about having to deal with optimizing the performance of your Apple notebook.
What if your expensive MacBook Pro needs a tune-up, and you don't know where to start? That's where software solutions like CleanMyMac X in our review come into play.
CleanMyMac X
DOWNLOAD APP
Price Range:
$0 - $199.95
AVAILABLE ON:
Mac
KEY FEATURES:
Number of devices: One per license
Malware removal: Yes
Privacy tools: Yes
Optimization: Yes
Best price: $89.95 one-time purchase
Pros
Comprehensive cleaning tools
User-friendly
Malware monitoring and removal
RAM optimization
Efficient
Cons
Price
Lack of duplicate file finder
What Is CleanMyMac X?
This application is an all-in-one software that optimizes your MacBook by deleting unnecessary data, removing malware from your device, uninstalling unused applications, permanently shredding files, and more.
So, is it worth using with macOS, known for regular updates, and performance and software optimization? Well, it seems that is the case.
Price
CleanMyMac's price may be the software's most obvious shortcoming, as the cost could deter some Apple users from committing to this software. Thankfully, there is also a free version with limited tools available. You can test out most program features and boost the performance of your Mac with what's available.
Subscription
Subscription plans are all on a yearly basis. You can have CleanMyMac X on one Apple computer for $39.95, while you can save $19.95 or $109.80 if you purchase a plan for two or five devices, respectively.
This will unlock features behind a paywall, like using Smart Scan to clean up all the junk files in one sweep.
One-Time Purchase
If you need the CleanMyMac app on a regular basis or get accustomed to it, you can opt for a lifetime license. That's why one-time purchase options are available, and in our opinion, they're quite pricey. A single license costs $89.95 while two are $134.95, providing savings of $44.95. The plan for five Macs is $199.95 and saves $249.80.
The good news is that MacPaw, the company that developed the application, often provides discounts. If you're upgrading from previous versions of CleanMyMac, you can expect to get 50% off the price. Even if you were using another antivirus or cleaner software solution, you could get 40% off if you are looking to switch to CleanMyMac.
MacPaw also has other products in its store, including CleanMyPC, a Windows version of their optimization software, and ClearVPN. If you own any of these products, you can get 30% off for CleanMyMac X.
Free Version
Besides the CleanMyMac subscription and one-time purchase, you can use the tool free of charge for a short while. Even though you won't have the complete set of features, you'll be able to get an idea of how the software works and how convenient it is.
Features
For our CleanMyMac X review, we tested out all the tools available with this macOS cleaner. Keep reading to see what you can expect from this piece of software.
Modules are grouped into five categories: Cleanup, Protection, Speed, Applications, and Files.
Smart Scan
Smart Scan is the most practical module that CleanMyMac X has. In a two-step process, you'll see what files need to be cleaned up, if any security alerts require your attention, and what you need to do in order to speed up your Mac.
You need to run the scan and the optimization process afterward. The Smart Scan tool runs all the modules it has available, or you can go in-depth and analyze each result individually.
System Junk
Most CleanMyMac X reviews mention how practical the System Junk module is. In our case, it suggested removing 2.26 GB of cached files, which isn't a lot. However, with the regular maintenance that we do on our Mac, we were surprised to see that much available for removal.
Mail Attachments
If you are using the native macOS Mail application, you can activate CleanMyMac X to clear up email attachments cluttering your storage. It's especially useful since these attachments persist, even if you delete the application.
Trash Bins
This is the least helpful feature from CleanMyMac. While files kept in the macOS Bin do take up space, erasing them is as easy as clicking the right mouse button on the Bin icon and pressing "Empty Bin." The only upside is knowing how much space these deleted files take up.
Malware Removal
While it's true that Macs aren't as prone to malicious software as Windows-based computers, it doesn't hurt to stay safe and have software that will protect you from malware. So, does CleanMyMac X work as an anti-malware tool?
We've used an EICAR test file to confirm that CleanMyMac X can detect it because it's hard to find Mac-only malware. The software performed admirably and removed the test file from our MacBook Air.
Privacy
Unlike other tools that actively block trackers and ads or monitor the dark web for your information, CleanMyMac X doesn't do any of those. Its primary concern is the private information you have stored on your browsers. Specifically, it can clear up your browser information, passwords, payment information, search queries, download history, autofill data, and cookies.
What's more, CleanMyMac's legit use can be removing unwanted permissions from the applications you have on your MacBook. Of course, if you remove permissions by accident, you can always enable them again when prompted.
Optimization
The module for optimization gives you an overview of the processes booting up with your operating system. Disabling the unnecessary ones will speed up your system. While you can set up bootable items in macOS settings, not-so-advanced users will appreciate having it in a single app to make adjustments. Even if you uninstalled some of the applications, there might be remnants like these launch processes that you need to remove from your storage.
The Heavy Consumers section will show you what application is drawing the most on the system's resources, and it's up to you to decide if you need it running in the background.
Maintenance
As we carried out our CleanMyMac review, we liked that the application has a Maintenance mode that clears up many processes that you would have to use Mac's terminal or run scripts to activate.
With this module, you can free up your RAM, flush the DNS cache, free up temporary (purgeable) disc space, run maintenance scripts, etc. This is a handy tool to have in your maintenance arsenal.
Uninstaller
Uninstalling apps on Mac is one of the most straightforward things you can do on macOS. Simply dragging the app to the Bin uninstalls the app from your system. Is CleanMyMac worth it for this particular feature? It turns out that it is.
Many applications leave some files that are not removed in a standard uninstallation process. That's why CleanMyMac X is handy since it cleans up those files and serves as a central spot that keeps your storage clear of clutter.
Updater
Updating your macOS and your applications is a tried and tested method of decreasing security vulnerabilities that malicious parties can exploit and steal your information. That's why it comes in handy to use CleanMyMac X's Updater, as it managed to let us know that there was a 12.4 version before macOS did.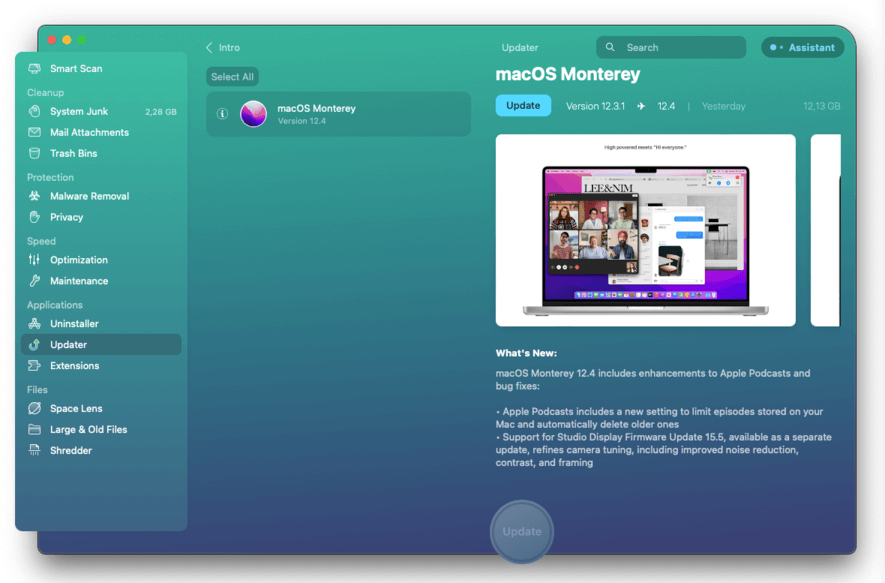 It does the same for applications installed on your Mac, but only the OS required attention in our example.
Space Lens
We have to mention Space Lens in our review of CleanMyMac X, mainly since it provides a convenient overview of all the data on your Mac. Your information is sorted in clusters that represent what takes up the most of your storage.
Large & Old Files
Another handy option that you can use to clear up the clutter on your drive is the Large & Old Files module. While it's convenient, it's not our go-to module for freeing up space on our MacBook Air.
Shredder
Shredder is a module you will use if you want to remove certain information from your drive permanently. Is CleanMyMac X good in keeping some of the most popular recovery software solutions from restoring deleted files? In our test, it showed that it is.
Active System Monitoring Tool
CleanMyMac X also has a great monitoring tool that's running in the background and protects your device. Here's a snapshot of the information it gave us after testing its features.
How Does CleanMyMac X Compare to Other System Maintenance and Cleanup Programs?
Since we covered in detail what CleanMyMac X has to offer, let's compare it with other macOS applications that fulfill the same role for Apple users.
CleanMyMac X vs. CCleaner
CCleaner is the go-to program for PC users who need help in freeing up their storage space and a boost in performance. It's primarily used to clear up clutter, which you can expect with Windows installations that have issues with the system registry.
However, the system architecture is quite different between macOS and Windows, and the solutions for these operating systems are on opposite ends of the spectrum.
CCleaner can do the same job of clearing out unnecessary files, but it's a bit behind CleanMyMac X when it comes to having comprehensive tools. CCleaner doesn't have as many optimization tools, and for the price of $29.95, the savings it provides aren't enough to justify replacing CleanMyMac X.
CleanMyMac X vs. Malwarebytes
Malwarebytes is the app of choice when it comes to malware removal. It's hard to compare it with CleanMyMac X, as they fall into different categories: One is focused primarily on optimization, while the other is a dedicated anti-malware software solution.
Malwarebytes is a much better malware removal software, but it will hardly replace CleanMyMac X for Apple users. We've already mentioned that Macs aren't as prone to malware as Windows-based computers. However, if you get infected, MacPaw's software will do more than enough to clean up your device and optimize it.
If you only need a malware removal tool, we can recommend Malwarebytes rather than CleanMyMac X. Keep in mind, though, that the cost of Malwarebytes isn't that much more affordable than CleanMyMac X, so Mac users don't need to look further than MacPaw's tool for all their optimization and malware removal needs.
Installation and Ease of Use
All CleanMyMac reviews, including ours, agree on how user-friendly and cleanly designed the interface is for this Mac optimization tool. Everything is straightforward, self-explanatory, and only requires clicking on a single button.
You can directly download the DMG file from the official website and install it in a few easy steps. When it comes to UI, it's one of the better apps we had the opportunity to test for macOS.
How Has CleanMyMac X Changed Over Time?
Developers are continuously working on improving the application's performance and removing bugs. If you're asking yourself, "Does CleanMyMac work with all the latest macOS updates?" there's no need to worry. Mac optimizer is constantly updated to address all the latest issues and improve the algorithms used to detect malware.
Closing Thoughts
Most Mac users will be surprised to learn that they could actually get an external application to help them clear up remnants of previous applications. This is something Windows users are already familiar with. Furthermore, if you are using older MacBooks, they are sure to lack performance. That's why they need all the help they can get to keep up with increasing system requirements from the latest software.
That's where CleanMyMac X fulfills a niche role in an environment with a highly polished and optimized operating system such as macOS.
FAQ
The macOS optimizing application is a handy tool to have in your arsenal. It helps you take control of your device and regain the space wasted on data you no longer need on your Mac. It was developed by MacPaw, a well-known and legitimate software developer. In its product offer, the company also has other software solutions with positive user reviews.
It's not as necessary as some tools you regularly need to use on Windows, but it does provide a convenient utility that macOS lacks.
What is the best app for cleaning Mac?
Our CleanMyMac X review found that using the application helped us optimize our storage space and provided reliable malware protection that's not as widely covered by other apps. There are also other options on the market, but none are as comprehensive as MacPaw's software solution.