Formstack Review
Formstack can save your organization a ton of time and resources thanks to its automation of document management and signing processes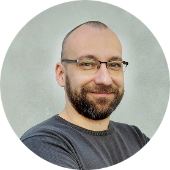 Updated: March 25,2022
DataProt is supported by its audience. When you buy through links on our site, we may earn a commission. This, however, does not influence the evaluations in our reviews.
Learn More.
Improving workplace productivity and automating manual tasks are essential for both evolving and large organizations. Formstack has a robust platform with plenty of tools that automate vital processes for your business needs, including data collection, generation of documents, and digital signatures.
Furthermore, if you need payment processor integration and use CRM software like Salesforce, you can seamlessly start using Formstack. There are more than 100 different integrations that make it easy for businesses to implement this solution. It can be used in various industries, including finance, healthcare, sales, and education.
Formstack
VISIT SITE
Price Range:
$16-$26/user/month
AVAILABLE ON:
iOS
Chrome
Android
KEY FEATURES:
Payment Collection: Yes
Legally Binding: Yes
Integrations: CRM, payment processing, CMS, email, calendar, analytics, healthcare, and more
Compliance: ESIGN, UETA, FDA, HIPAA, PCI, GDPR
Supported file types: jpg, jpeg, png, bmp, tiff, psd, pdf, doc, docx, xls, xlsx, txt
Pros
HIPAA and FDA compliance
Various integration options
User-friendly drag-and-drop interface
SMS and email auto-reminders
Multiple integrations
Cons
No free plan
API access only with Enterprise plans
What Is Formstack?
Founded in 2006, Formstack is designed to automate manual and some of the more tedious tasks that any organization grapples with on a daily basis. The Formstack platform consists of three separate products: Forms, Documents, and Sign.
Formstack Forms provide users with powerful form builders and management tools for automatizing and gathering data. The web-based software has a form builder that enables it to quickly produce custom surveys without the need for coding.
Formstack Documents simplifies the creation of any type of document, including invoices, proposals, and event tickets. Furthermore, it integrates security features that prevent unauthorized personnel from accessing data.
Formstack Sign is a digital signature software that speeds up the workflow and helps users avoid bottlenecks often caused by waiting for a signature. The software allows for efficient digital signing with computers, tablets, and mobile phones. This product is the main focus of our review, and we'll analyze it in further detail.
Pricing
Traditional paper document signing is not resource-effective and takes more time than simply sending an electronic document for digital signing. Finding an appropriate software solution can save you time and money.
The Formstack pricing plans are in line with what we've come to expect from such a service. The Starter plan is $16 per user per month, which is billed annually. If you decide that monthly billing is a more suitable option, you'll have to pay $20 per user per month. The plan includes unlimited e-signatures, documents, and templates. The Sign plan provides an intuitive drag-and-drop interface with each payment plan. The software lets you add your company logo to documentation and sign in on any device with a Wi-Fi connection. Each e-Signature transaction also includes an audit trail.
The Pro plan is meant for larger teams and will cost you $26 per user per month when billed annually or $32 when billed monthly. The subscription has everything in the Starter plan while adding the option to send documents via text or SMS, providing more branding options, Gmail and Outlook contact integration, reusable forms, and the ability to sign on any device.
The Enterprise is a customized plan that includes five users and features from both the Starter and Pro plan. In addition, it has further integration options, SSO support, custom data retention settings, the option to choose the location of your data center, and access to API and BAA.
Starter and Pro subscriptions have a 14 day free trial period, giving you plenty of time to decide if these plans provide enough options for your needs. Opting for an annual billing method will cut your costs by 20% for the Starter and 18.75% for the Pro plan.
Features
The aforementioned prices are similar to Formstack's main competitors. Below we'll compare the Formstack features with some of the alternatives on the market that have a similar price range.
Auto-Reminders and Mobile Signing
Electronic signatures are designed to speed up document processing. It is much easier to fill out an online form and add a signature on mobile devices when your e-signature software supports it. Thankfully, Formstack Sign has handy auto-reminders, which users can enable when sending documents for signing. You can set up automatic email and text notifications, saving you the trouble of having to send them manually. On top of that, you have message customization options.
Compliance
Formstack Sign is compliant with the Electronic Signatures in Global and National Commerce Act or ESIGN as well as the Uniform Electronic Transactions Act. The web application goes a step further by implementing FDA and HIPAA compliance standards.
Formstack Sign is compatible with CFR Title 21 Part 11. Therefore, if your business is an FDA-regulated entity, you can use this e-signature software without having to worry about compliance.
Of course, medical records and other information related to a patient's history are highly sensitive. Digital signature software needs to have document access restriction options to stay compliant with HIPAA regulations. Password protection, secure storage, and encryption are methods by which Formstack Sign ensures that private data can only be accessed by authorized individuals.
Multiple Participant Workflow
More often than not, several people need to sign one document. With Formstack, you can upload the file and add several signatories in the appropriate order. After that, you need to add the required fields for each signatory. The document is then sent in the order it was configured.
Audit Trails
With digital documents, it's essential to have appropriate evidence that backs up each signature. With audit trails, each digital file has a document history that lists and time-stamps any actions taken after the document is sent.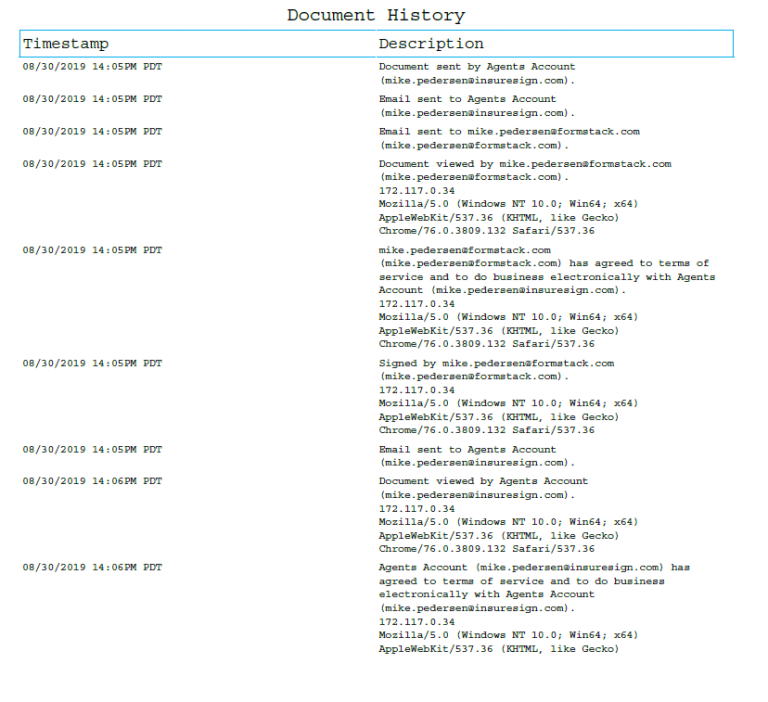 For each activity, you can see the email address of the person performing the action, name, IP address, time and date, and the software used to open the email.
Security
Handling confidential documentation is a sensitive process, especially if it relates to negotiations between companies, acquisitions, user data, or someone's medical history. We appreciate the fact that Formstack uses comprehensive measures and takes data security seriously.
Formstack Sign uses TLS 1.2 or higher to encrypt end-to-end communication between users. Furthermore, all data you submit is encrypted under AES-256, while HIPAA files are uploaded to S3 file servers managed by AWS server-side encryption.
Formstack takes additional steps to maintain security, and we like the fact that it's transparent about its security procedures. It logs all activities and checks them for security anomalies. Logs are processed by a centralized infrastructure that audits them.
Third-party security vendors test the security infrastructure twice a year, particularly for vulnerabilities that could lead to malicious parties penetrating the Formstacks network.
Integrations and API
When it comes to choosing software for daily use, your pick depends on your business and the industry in which you work. Sales-oriented businesses will appreciate having the option to integrate Formstack with CRM software like Salesforce. Meanwhile, all enterprises like email integration and whatever email service your company is using are covered by Formstack Sign.
The complete software suite from Formstack has hundreds of different types of integrations with programs from Microsoft, Amazon, PayPal, and many others. But if you're using in-house built software or simply something that Formstack doesn't directly support, you'll be able to develop your own integration. You can create a connection between your software and Sign through an open API.
Such API integration can make it easy to send documents in bulk while maintaining all the security features and conveniences that Forstack Sign has to offer.
Ease of Use
Preparing documents without the need for advanced coding is one of the main advantages of Formstack Sign. The web app has a user-friendly interface that makes it easy to create documents quickly.
Templates and Drag-and-Drop Interface
Formstack templates allow you to automate and quickly create signature overlays, which comes in handy for regularly used documents. Formstack Sign has an option to save the overlay template so you can re-apply it immediately for new ones. After trying it out, we found it easy to adjust existing ones, quickly modify them, and save them as different versions.
You can also choose whether the template you create is available only to you or the entire team.
The drag-and-drop interface includes various field types that you can add to your documents. Aside from signatures, dates, and initials, you have the option to include fields for text, checkboxes, and radio buttons.
Walkthroughs and Guides
Formstack tutorials, guides, and resources are readily available on the company's website. The company goes above and beyond to showcase ideas for improving business workflows and applying and using its tools. The main focus is on data processing. Formstack Forms is the flagship tool that the company offers. However, there is more than enough information about its other products.
It's worth noting that the information isn't locked behind a subscription and isn't reserved solely for those with an account. Formstack confidently presents its offer and knows that the product speaks for itself.
Formstack holds engaging webinars, and "Practically Genius 2021" is available on their website and Youtube channel. Furthermore, users can enjoy the company's podcast, Ripple Effect, which hosts guests from different industries.
How Does Formstack Compare to Other Digital Signature Software?
Formstack
$16-$26/user/month
Legally-binding:
Yes
Aplication:
Legally-binding:
Yes
Aplication:
PandaDoc
$0 - $49/month/user
Legally-binding:
Yes
Aplication:
Alternative Digital Signature Software Solutions
Any company that operates in a B2B or B2C format can benefit from streamlining some of its processes. However, we're aware that other developers have their own digital signature products with compelling offers, which is why we think it's necessary to compare them with Formstack.
Formstack vs. DocuSign
The DocuSign-Formstack comparison is often made because the former is the most used eSignature solution on the market.
Even though Formstack Sign has plenty of integration options, it doesn't come close to DocuSign with support for more than 350 solutions. We know that Formstack has an API that allows for the integration of programs that aren't officially supported, but having the convenience of a plug-and-play solution gives DocuSign the upper hand.
DocuSign has more compliance certifications than Formstack. It holds ISO 27001:2013, SOC 1 Type 2, SOC 2 Type 2, PCI DSS, CSA STAR Program, and APEC PRP certifications and is compliant with ESIGN and UETA. However, if you need an FDA or HIPAA-approved service, your best course of action is to try out Formstack Sign.
DocuSign has a Personal plan that will cost you $10 per month if you pay annually for five documents per month. This is a costly option, and the monthly document limit is one of its major cons.
DocuSign is a better-suited solution for businesses that operate internationally. However, Formstack's list of pros includes its FDA and HIPAA compliance.
Formstack vs. PandaDoc
Another popular software is PandaDoc which also comes with a 14-day free trial. It's an all-in-one solution like Formstack Sign that can design, edit, create templates, automate, integrate, and track digital documents.
PandaDoc ensures compliance with ISO 27001, DoD CSM, FedRAMP, and PCI DSS as well as international standards like GDPR, the UK's CESG, and Singapore's MTCS. Most importantly, US-based companies can use PandaDoc without facing any compliance issues as the software is ESIGN, UETA, and HIPAA certified.
Formstack has fewer international certifications, but it's compliant with FDA standards.
Both services use AWS servers and similar levels of security, meaning that your data will be kept safe regardless of which software solution you choose.
PandaDoc has fewer integrations than Formstack, but you'll find all of the important applications that many industries use.
PandaDoc's main advantage is that it's more affordable than Formstack. It has a free plan and several options with monthly payments, a mobile app, and unlimited signatures and documents. It's excellent for both new businesses and personal use. Essentials and Business plans with an annual subscription are $19 and $49 per user per month, respectively, which is a bit more expensive than Formstack. Also, you'll have to contact the sales team for a quote if you're interested in the Enterprise plan.
We preferred PandaDoc's offer for up-and-coming businesses, and its Essentials plan seems to provide better value for a growing organization. However, we think that Formstack Sign is a stronger contender for medium-sized companies.
How Has Formstack Changed Over Time
Online Formstack reviews include positive feedback and high ratings for Formstack Sign. The program was previously known as InsureSign before Formstack acquired the company in 2019.
Formstack provided more secure AWS servers and more features like auto-reminders and advanced encryption for stored data and TLS for end-to-end communication. The digital signing service now has more integration options in addition to using API to communicate with any software solution.
Most importantly, the product's price is now lower, with Formstack Sign offering a significant discount for annual billing.
Recent updates include SMS and text delivery support for 241 different countries, which is part of the Pro plan.
Customer Support
Formstack has a stellar customer service team and extensive info on all of its web applications. We're impressed with the amount of information we found on how to use Formstack products. The knowledge page answers almost all relevant questions about the software solutions. It also includes articles, webinars, guides, videos, and guidance for HIPAA.
In the unlikely scenario that you don't find the information you need, you can always log in and submit a ticket to the customer support team. Formstack offers new users training, so it won't slow down your workflow if you start using Sign. In short, we are highly impressed by Formstack's focus on the overall user experience.
Bottom Line
Formstack Sign offers an important service for businesses. The company also has a robust software package that includes data analytics, document creation, and tracking while seamlessly integrating with other products. Paid subscriptions are similar to those you'll find with the competition. Unfortunately, there isn't a free plan that individual users or startups could implement for smaller-scale operations.
However, there is a 14-day free trial that will help you determine whether the product is the right fit for you and your organization. Most importantly, Formstack Sign does what it's supposed to do, and online reviews echo our conclusion. It helps speed up and automate your daily process with an easy-to-use interface and a well-balanced software solution.
FAQ
Formstack is user-friendly software with plenty of integration options with other CRM, CSM, payment, email, and document storage solutions. It has a 14-day free trial, which is plenty of time to figure out if this is something that your organization needs.
What is Formstack used for?
Formstack offers its customers a software solution for digital signatures, data analysis, and document creation.
What is Formstack Documents?
Formstack Documents is a software solution that's part of the company's packages like Platform, Sign, and Forms. It's used for the seamless and automated creation of custom documents.