Sophos Antivirus Review
Capable antivirus with a convoluted pricing structure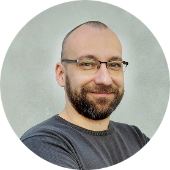 Updated: March 29,2022
DataProt is supported by its audience. When you buy through links on our site, we may earn a commission. This, however, does not influence the evaluations in our reviews.
Learn More.
Sophos Home offers a solid protection suite for PCs, Macs, laptops, tablets, as well as Android and iOS phones. It comes both in a free and paid version, both of which are analyzed in this review.
Despite the fact that Sophos' offer could be characterized as bare-bones, it does its main job pretty well. The antivirus software doesn't include additional cybersecurity features like a free password manager, VPN, or a file shredder often included by its competitors. However, it effectively scans your devices for malware and other threats and defends against them.
So let's dive in and see what exactly you get when you purchase Sophos antivirus.
Sophos Antivirus
VISIT SITE
Price Range:
$44.99-$104.99/year
AVAILABLE ON:
iOS
Mac
Android
Windows
KEY FEATURES:
Ability to fight advanced malware and attacks
Proactive online protection
Uses cloud and AI technology
Home Premium package covers up to 10 devices
Complete remote management
Mobile app support
Pros
Affordable & easy to use
Offers advanced protection
Complete remote management
No third-party apps/additions
Cons
Home Premium can't protect against all recent, high-level phishing attacks
Confusion over what features are included in each package, a negative in any Sophos rating
The Company and Its Software
Sophos is headquartered in Abingdon, Oxfordshire in England. Founded in 1985 as an antivirus solution for businesses, the company uses the tagline "Cybersecurity evolved". It describes how it has adapted to changing cybersecurity needs over decades.
Indeed, the cybersecurity industry is an ever-evolving one. There are always new threats – malware, spyware, phishing attacks, and other unwanted digital intruders to guard against. In this regard, Sophos has kept up with the best home antivirus players in the industry, like Kaspersky, Bitdefender, and Norton.
SophosLabs – Sophos' dedicated research and development team – deals with more than 400,000 viruses and pieces of malware every day. By drawing on 25 years of experience and with a constant finger on the pulse of new, emerging threats, Sophos is able to provide enterprise-grade malware protection to personal users.
Sophos Home Premium
Sophos security systems have all the basics covered and more. With the entry-level product – Sophos' free download version – you already get fairly wide-reaching antivirus and web protection features. We've also tested the Home Premium version to determine what advanced features are available and how these differ from the other big names in the industry.
Home Premium unlocks all advanced tabs on your Sophos web dashboard and opens all its security commands. The thorough list below shows the coverage you'll get for your main computer and its associated devices with the Home Premium package:
Malware scan and clean
AI threat detection
Ransomware security
Security management
Privacy protection
Web protection
Real-time PC antivirus
Parental web filtering
Premium support
User Interface and Compatibility
Overall, Sophos Home Premium is stable and does not interfere with existing programs, including native antivirus apps. Even its most common competitor, Windows Defender, poses no problems here.
The Sophos install process is pretty standard. Once it's completed, you'll be left with a smooth interface that contains everything you need without being too complicated. However, take note of the minimum requirements on RAM and disk space to operate Sophos' advanced security features, such as its anti-ransomware service.
For smoothly running Sophos Home antivirus, the recommended data and RAM specs should be at least:
Windows: 1 GB of RAM, 1 GB of free disk space
Mac OS: 4 GB of RAM, 4 GB of free disk space
Plus an additional 3 GB for Sophos' Cryptoguard ransomware protection on both Home Premium and free versions for both Mac and PC.
Sophos guarantees no add-ons or third-party ads, which enables your PC or Mac to focus on its security functions. You only get what you signed up for, no more, no less.
The test installation we performed while testing Sophos antivirus on a PC confirms these details.
The user interface expands to the browser when used. Clicking on any of these facilities will broaden the dashboard, allowing you to oversee other devices in your network remotely. This works well for maintaining devices of senior members of the family or children.
It's worth mentioning that an easy-to-use Sophos removal tool is included on the website for simple uninstallation. In our opinion, this gives it a competitive edge over Kaspersky, which is notoriously difficult to uninstall.
Premium vs. Free
Sophos Home Free version is available for download on the official website, App Store and Google Play. Even in this basic form, the program provides decent antivirus and web protection coverage for most types of online use.
The free version actually allows you to protect up to three devices per account, which is sufficient for most individual users. If your home setup exceeds three internet-connected devices, you can always sign up for the free version using a different email address.
For users with more devices to manage, Home Premium is a much better option. This option allows up to 10 devices per account, as well as some very useful advanced protection features. This is recommended for small networks or families and households with more extensive online activities that both involve work/business and heavy data.
Sophos Home Premium is fairly affordable; it's currently discounted to cost only $44.99 for the first year and $60/year thereafter. You can opt for a one-, two-, or three-year subscription, with the three-year deal offering the best value.
These prices are quite competitive. For example, Avast's Ultimate Antivirus plan (designed for personal users, with similar protection features for up to 10 devices, plus a VPN) is currently discounted by 33% and will cost you $79.99 a year.
Systems Compatibility
Some antivirus companies choose to specialize in providing protection for certain operating systems, leaving Linux off their offer. Sophos, on the other hand, does a good job warding off threats on Mac, Windows, and Linux alike.
Most reviewers reflect positively on the program's stability and ability to work on Linux-native malware and viruses. After running a few tests of our own, we concur.
When we inserted a USB with samples of malware designed to compromise the Linux operating system, Sophos detected it and started removing those samples immediately. It successfully eliminated all threats contained in that portable memory stick within some 15 minutes.
Developers and IT professionals, in particular, will be happy to hear about its high compatibility with Linux given that it is the most common OS used in servers.
Moving on to Windows, Sophos works on Windows 7 through 10. Both Sophos Home Free and Premium have the most features for Windows. This is justified by the system's proneness to virus infections.
Many users wonder whether their antivirus of choice conflicts with Windows Defender. Sophos already has an advantage over WD, even in its free trial version. Furthermore, it's also compatible with WD; there are no conflicts and it won't cause any freezes.
When testing Sophos on a Mac computer, we were impressed with how fast it performed the system scan (the first scan was over in just under 9 minutes) and the low use of CPU (just 20%).
Mobile Apps
Sophos carries its features over to its mobile versions effectively. There are two apps depending on which service you opt for:
The Sophos Home app for iOS and Android lets you manage computers running Sophos Home Premium.
Sophos Mobile Control is the best way to manage Sophos' business features for mobile devices.
We also need to mention that some of the company's business products have their own business products compatible with Android and iOS:
The Intercept X app for Android/iOS is effective against most malware and WiFi attacks on both mobile platforms. It's free to download and install.
The Sophos Secure Email App handles corporate and business emails with AES-256 military-grade encryption for premium security. You'll need Sophos Mobile Control to use it.
Sophos Secure Workspace enables secure data connections to your company's documents and websites. It also uses AES-256 military-grade encryption for maximum security.
Sample Test Scan Results
We were impressed when we took the Sophos virus removal tool for a test drive. The Home Premium version of the software detects a surprising range of suspicious cookies with just a basic scan. These results were much more in-depth than most of the consumer-level products we're used to seeing.
If you perform the same test on your PC, the long list of unknown cookies will likely surprise you, and you probably won't be able to pinpoint where they're from. The app will instruct you to close all browsers since some of these cookies are from currently active pages.
On a different note, Sophos Home was tested by only one of the four most trusted independent antivirus testing labs: SE Labs. The software scored a respectable result in SE Labs' rigorous test – AA (the highest result being AAA). Sophos Home has not yet been tested by AV-Test Institute, AV-Comparatives, or MRG-Effitas.
Advanced Threats
Next, we'd like to go over some of its most advanced capabilities. These protection features have helped Sophos stand out even compared to the most famous antivirus apps and software.
Sophos will provide you with warning notifications if someone is accessing your device's camera or webcam. We already know how possible it is for hackers to get access to our cameras and mics, which is why many people now tape up their front cameras. This webcam protection feature should make you feel more confident and significantly less paranoid.
Another advanced security capability is Sophos' wireless protection against wardriving. An attack like this is carried out by cars passing around and scanning WiFi networks. They lock onto less secure ones to gain access to the network.
Sophos can also handle the following kinds of threats:
Brute force attacks
Ransomware
Rootkits
Automated and active-adversary breaches
Exploits
Keyloggers
Phishing
Data exfiltration
Adware
These are some of the most dangerous and damaging attacks, and they can compromise your computers, data, and online banking. While they may not be as common as viruses and malware, they can be harder to trace and stop.
How Does Sophos Compare to Other Antivirus Solutions?
Sophos Antivirus
$44.99-$104.99/year
Free Version:
Yes
Aplication:
Free Version:
Yes
Aplication: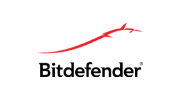 Bitdefender
$39.98 - $89.99/year
Free Version:
Yes
Aplication:
As one of the most renowned antivirus and antimalware solutions, Sophos has all the necessary tools to ensure your personal information and sensitive business data are well-protected. However, it's far from the only such solution, which is why we wanted to see how it compares to its biggest competitors in terms of features, pricing, and customer support. Let's see how well Sophos does:
Sophos vs. Avast
To start this comparison, we will go through some of the key features for both solutions. Both Sophos and Avast have highly advanced features, such as scheduled scans, real-time antivirus scanning, and adware protection. There are, however, some features Avast has that Sophos does not yet incorporate, including anti-spam and email protection.
Price is another essential factor to consider when choosing the right antivirus solution for yourself, and both providers have formidable free plans. However, here's how things stand with these two products when it comes to premium subscriptions:
Sophos pricing is pretty fair: There's currently a discount offer of $37.46 for ten PCs or Mac devices for the first year on the Home Premium plan. Avast has a similar offer with its Premium Security plan for $39.99 a year, which also covers up to ten devices. Both prices are discounted, and Avast's regular price ($69.99/year) is significantly more expensive than the full Sophos rate ($49.95).
Sophos has a bit of an advantage in terms of support, as it offers a live chat option for immediate assistance, regardless of whether you're on the free plan or a paid membership. On the other hand, Avast has a ticketing system and phone support available only to users with advanced plans.
Sophos vs. Bitdefender
Let's get straight into it. Same as Sophos, Bitdefender has some outstanding features, such as webcam protection, a password manager, and parental control. Bitdefender also has a VPN feature, which Sophos does not incorporate, while Sophos has the identity theft protection Bitdefender doesn't.
Both Sophos and Bitdefender have free plans that can protect your device from some basic threats. When it comes to paid plans, there's a clear difference. Sophos only has the free and the Home Premium plan, while Bitdefender offers a great variety of options. After conducting a Sophos Home review, we can see that it's most similar to Bitdefender's Antivirus Plus option, which is currently discounted and costs $29.99 a year – in other words, Bitdefender is cheaper, too.
As regards customer support, Bitdefender has a bit of an advantage. It provides support 24/7 via phone, live chat, and an online ticketing system. It also has some how-to videos to help users out with the installation process or technical issues.
Sophos has an extensive knowledge base on the website and a live chat feature. Sophos reviews customer live chat inquiries promptly, and we were satisfied with how knowledgeable their agents were, but there is no phone support.
How Has Sophos Changed Over Time?
As a company that's been in business since 1985, Sophos has had a long time to progress and develop new features. It still continues to do so in order to provide its customers with consistent high-level security performance.
The latest thing Sophos decided to incorporate is some improvements and bug fixes to its PSA integrations. The company also presented the Sophos Firewall v18.5 MR1 that is available for all SFOS form factors and includes support for new Sophos Central Orchestration capabilities. While writing this antivirus review, we could see that Sophos constantly finds new ways of improving its services, which is something we liked.
Where Can Sophos Improve?
While testing Sophos, we've been mostly satisfied with the company's offer. However, one aspect that could be better is the phishing defense included within the Home Premium offer.
You could upgrade to Sophos Phish Threat to make up for this shortcoming. Sophos Phish Threat is a standalone program designed to detect phishing attempts. If you need a higher level of phishing protection, this specific business solution may be the best option for you.
While Sophos is generally excellent for Windows devices, some reviews for the Mac version rightly point out that there are fewer options available compared to the Windows version.
Despite a few minor issues, Sophos remains one of the best and most comprehensive antivirus and antimalware providers out there. Whatever your security needs, you'll be able to put together a suite of products that ticks all the boxes. And even if you opt for the free version, you'll get better protection than most alternatives would offer.
Customer Support
Meanwhile, Sophos support is what you'd expect of a company of this caliber. Users on the free plan get access to the Sophos forum and an extensive FAQ section. It's full of useful articles and video guides.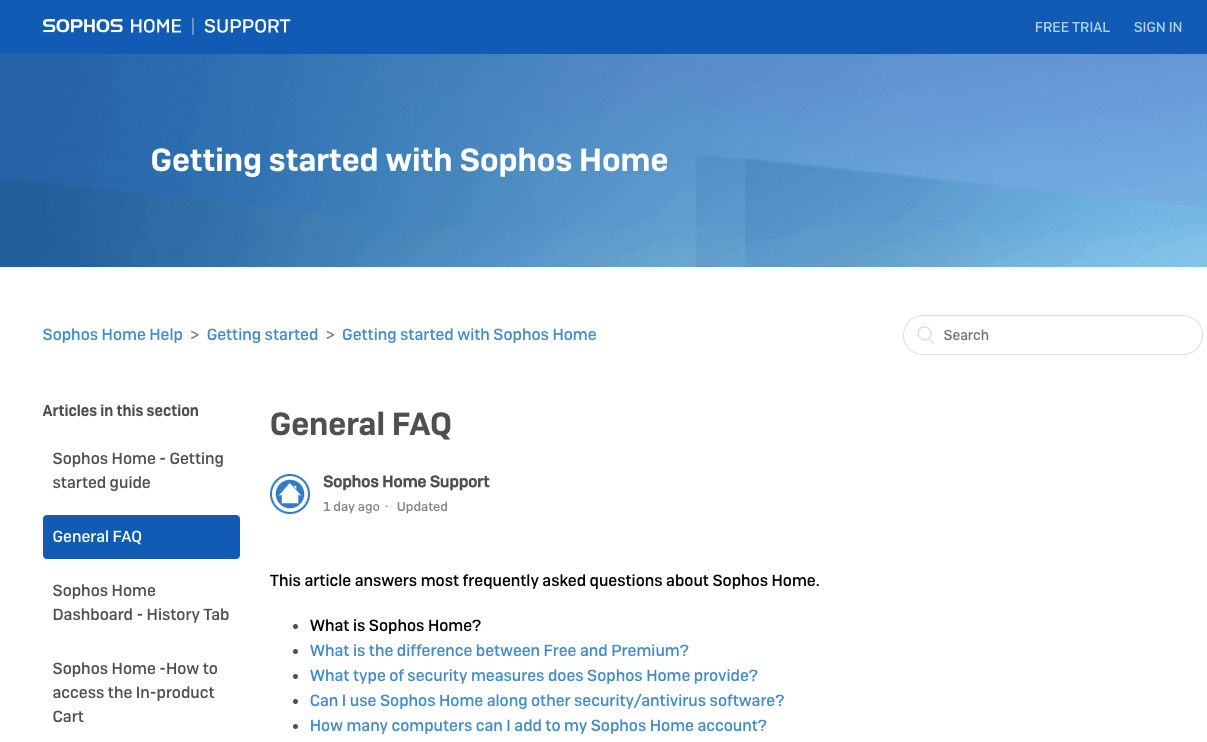 Those on the Premium Plan users get Premium Support. This means, customer support agents answer their specific queries via email and live chat. The support team is available Monday through Friday from 8 a.m. to 8 p.m. EST.
We reached out to a customer support agent via live chat and were presented with a swift and clear answer. We inquired about the steps for remotely changing the security settings for one of the ten devices managed in the paid plan. We figured this would be a common question that less experienced users would ask.
Bottom Line
Sophos Home is a reliable and reasonably priced antivirus solution for personal users. While it lacks some of the bells and whistles other providers throw in the mix; it is completely capable of protecting your computer from malware. It may not come with a free tool for managing passwords, but it scans, detects, and removes harmful files from your computer as soon as they appear.
The main advantage of Sophos Home is its system compatibility with Windows, Mac, Linux, Android, and iOS. It works effectively on all these operating systems without taking up too much CPU.
While great at malware and ransomware protection, the software isn't too advanced at phishing protection. If you're interested in those features and would like a bundled internet security product, you might want to check out some of Sophos' competitors like Norton and Bitdefender.
FAQ
Is Sophos a good antivirus?
Yes, Sophos is an exceptional software solution. As confirmed by our review and ratings from many of the best-known tech sites, Sophos can more than match it with competitors when it comes to providing high-level, proactive security.
Which is better, Sophos or Avast?
Sophos vs Avast comparisons offer varying results; while most reviews put Avast slightly ahead on balance, some consider Sophos the better option, especially when taking affordability into account. What we can say for certain is that both of these products do a great job.
Is Sophos better than Norton?
Many reviews consider Norton to be the better antivirus. Using one of Sophos's business applications (such as the well-praised Intercept X) may bring Sophos up to level pegging with Norton. Then again, Norton has several versions to consider: Norton Antivirus Plus, Norton 360 with LifeLock Select, 360 Deluxe, and Norton 360 Standard.
Who makes Sophos Antivirus?
Sophos Group PLC, based in England, produces all Sophos software, as we mentioned at the beginning of our review.