Norton Antivirus Review
The software titan remains in the antivirus pantheon
Updated: March 24,2022
DataProt is supported by its audience. When you buy through links on our site, we may earn a commission. This, however, does not influence the evaluations in our reviews.
Learn More.
You don't have to be particularly tech-savvy to know that Norton is one of the top names in the digital security industry. One of the best things about Norton is its rich collection of solutions to fit every budget and various user needs.
Norton began its journey in 1991. Today, it provides multilevel malware and virus protection, with 24/7 customer support, to more than 50 million users worldwide. Should you join this vast community of Norton users? Find out in our unbiased Norton antivirus review.
Norton Antivirus
VISIT SITE
Price Range:
$14.99-$299.88/year
AVAILABLE ON:
iOS
Android
Windows
KEY FEATURES:
Silent updates
Webcam protection
Smart firewall
Dark web monitoring
Cloud backup
60-day money-back guarantee
Pros
Compatible with various devices
Free trial with all the plans
Subscription plan specifically designed for gamers
Cons
Pricey renewal after the first year
Features of Norton Antivirus
Norton offers multiple comprehensive plans that come with various features and are designed to fit multiple devices. These are the ones that stand out the most:
Anti-phishing protection – Norton will keep you safe by blocking any suspicious emails that come from an unreliable source or contain phrases common to phishing attacks.
Norton Secure VPN – Protects your anonymity online and your private information like credit card details, passwords, and so on.
Parental controls – This feature allows parents to monitor their kids' activities online.
Automatic silent updates – When you're using it in silent mode, Norton antivirus reviews update alerts and hides them to ensure that all processes run smoothly without slowing down your device. Even though you won't be receiving any distracting notifications, you can be sure that your device is adequately protected.
Cloud backup – By storing your important files on the cloud, Norton prevents the possible loss of those documents due to a hard drive failure or a ransomware attack.
Norton Firewall – This feature defends your device from unauthorized access. It monitors network traffic and enforces rules about accessing the computer.
Webcam protection – Norton SafeCam prevents hackers from accessing your webcam and spying on you. This feature is only available on Windows devices.
These are just some of the main features, as listing them all would go beyond the scope of this review of Norton antivirus. We will, however, describe some additional ones in our review of the individual subscription plans.
Products and Services
Norton AntiVirus Plus
One of the basic Norton products, Norton AntiVirus Plus comes with:
Real-time threat protection
Smart firewall
Password manager
2 GB cloud backup
Real-time threat protection shields your system continuously. It runs in the background and monitors your system without bothering you. Unlike a regular system scan, real-time protection is proactive – it prevents malware from infecting your computer instead of simply detecting an existing infection – and doesn't have to be manually activated.
The smart firewall keeps your device safe from any unauthorized access. With the help of AI-powered technology, it analyzes the network traffic and quarantines any suspicious files.
While writing this Norton AntiVirus Plus review, we also tested the password manager, which allows you to create, store, and manage your passwords and credit card information safely and securely. It has a safety dashboard that helps you spot weaknesses in your logins and a password generator to create strong passwords you can save and update by using the Autochange option.
Apart from the previously mentioned features, Norton AntiVirus Plus provides you with secure cloud backup for your Windows PC, so you can safely and conveniently store important files.
Norton AntiVirus Plus is compatible with Mac and Windows and will protect one device. In case you wish to review Norton antivirus yourself, you can purchase this package for $19.99 (the promo price for the first year), test it for up to 60 days, and, in case you're not satisfied with it, ask for your money back.
Norton 360 Standard
Both Norton AntiVirus Plus and Norton 360 Standard come with Startup Manager and the Norton Insight feature.
Startup Manager is there to inform you about the resource usage by the programs that initiate your system startup, while Norton Insight analyzes your files, their impact on your system, and their trust level.
From our Norton 360 Standard review, we can say that this option works best for users who want to have a bit more advanced features on top of the basic ones. These extra features include:
Norton SafeCam protection
Norton Secure Connect VPN access (fully integrated and unlimited)
10 GB cloud backup
Spam filter
Dark web monitoring
This package protects a single PC, Mac, tablet, or smartphone.
Norton 360 Standard is currently sold at a discounted price of $25.99 for the first year, and if you decide to renew it, it'll cost you $84.99 per year.
Norton 360 Deluxe
Any Norton antivirus review would be incomplete without mentioning Norton 360 Deluxe, Norton's premium plan that can protect up to five devices – PCs, Macs, smartphones, or tablets.
This plan includes all the features of lower-tiered plans and adds some more, such as:
Parental controls
Privacy monitoring
50 GB cloud backup space
Parental controls enable parents to set rules for their kids, restrict them from using certain websites, and set limits on how much time they spend online. With Norton 360 Deluxe, you can review the videos they've watched, the apps they've downloaded, even the words and phrases they've searched. This option also includes GPS tracking with a 30-day history, so you'll always know where your kid has been.
You can use Norton's Secure VPN across five devices with the Norton 360 Deluxe plan. It's also good to know that it has a no-log policy and implements bank-grade encryption to keep your data private and secure.
All these features can be yours for $29.99 for the first year and then for $104.99 annually, provided that you don't cancel your subscription.
Norton 360 with LifeLock
Any Norton antivirus security review would readily recommend this package to anyone looking for the most advanced internet security solution. It's the most comprehensive of all Norton's plans. You can look at it as the expanded version of Norton 360 Deluxe. What makes this subscription plan the greatest of them all are the additional tools:
LifeLock security
One-bureau credit monitoring
Million Dollar Protection package
Up to 100 GB of backup storage
LifeLock security is the feature this Norton plan is well known for. It's an identity theft protection tool that will alert you in case your Social Security number, name, date of birth, or address have been used in any applications for credit or other services.
Numerous reviews of Norton antivirus praise the Credit Monitoring feature that tracks critical changes in your credit with one of the three credit bureaus and alerts you in case it detects any potentially fraudulent activity.
If these protective measures fail, and your identity and/or money gets stolen, the Million Dollar Protection package is there to reimburse the stolen funds up to $25,000 and cover your personal expenses up to the same sum. You'll also be entitled to up to $1 million to pay for lawyers and other experts hired to restore your identity.
In addition to Norton 360 with LifeLock Select, this Norton antivirus review gave us an opportunity to check another two subscription plans that incorporate LifeLock – Norton 360 with LifeLock Advantage and Norton 360 with LifeLock Ultimate Plus – and we can tell you with certainty that they are worth the extra money.
The Norton LifeLock Advantage plan comes with expanded backup storage (250 GB) and covers up to 10 devices with antivirus protection and a VPN.
If you thought things couldn't get any better than this, you should know that with LifeLock Ultimate Plus, Norton antivirus reviews and protects as many devices as you like. It also increases backup space to a generous 500 GB. The Credit Monitoring option with this plan includes credit monitoring with all three major credit bureaus. Besides all that, the Ultimate Plus plan incorporates Home Title Monitoring and 401(k) and investment activity alerts.
Norton 360 for Gamers
This is a new addition to the Norton protection family of products. Its primary purpose is to provide multilayer protection for your devices, digital assets, and game accounts.
While putting together this Norton 360 for Gamers review, we got to test some interesting features designed especially for video game lovers.
With Norton 360 for Gamers, you can cover up to three PCs, Macs, tablets, or smartphones for $34.99 for the first year. Later on, this Norton subscription would come up to $99.99 a year, which is somewhat pricey, but we think it's still a good value considering all the features you get:
Dark web monitoring
Secure VPN
Full screen mode detection
Notification optimization
PC SafeCam
Parental controls
50 GB cloud backup
With this subscription plan, Norton antivirus software will review and optimize all the parameters that could affect your gameplay to ensure the best gaming experience possible.
Dark web monitoring will let you know in case any of your game tags, email addresses, or user names appear on the dark web.
Full screen mode detection silences all but the most crucial security alerts when you're using a full screen.
Notification optimization means that you'll only be notified about possible threat attacks or when your protection is at risk.
If you're still unsure about purchasing a specific membership plan, the Norton antivirus free trial lasts for seven days and can help you decide. It's available with all billing plans.
Availability and Customer Support
If you were reading our article closely, you already know that you can install Norton antivirus on any Mac, PC, or tablet. There is also a mobile version, which can help you protect your Android or iOS phone from malware. Along with keeping it protected, Norton will look for the latest updates and security patches to ensure your device is up to date.
For any issues or concerns you might have with Norton antivirus, customer support is there to help. You can reach them via live chat or phone – both options are available 24/7. Other than that, you can browse through numerous helpful articles on the website or ask your question on one of the community forums.
How Does Norton Compare to Other Antivirus Solutions?
Norton Antivirus
$14.99-$299.88/year
Free Version:
No
Aplication: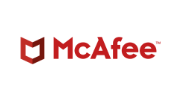 McAfee
$29.99 - 64.99/year
Free version:
Yes
Aplication:
Free Version:
Yes
Aplication:
Norton Antivirus vs. McAfee
Both antivirus goliaths offer users premium malware protection, so the differences in their results are generally minimal. However, when we checked for false positives, Norton Antivirus marked just six false positives, while McAfee had 24 false positive instances. In other words, Norton was the clear winner here.
If you need to remove malware from an infected drive, both products are an excellent choice, with merely 0.6% of malware by either app. The difference is that McAfee Total Protection gets rid of invaders entirely automatically, while Norton 360 requires user input in just under 1% of cases.
We've focused on Total Protection and Norton's antivirus for PC in our review of both providers' features. In general, Norton has better monitoring tools, like credit and phone-takeover monitoring, and cloud storage support, as well as investment activity alerts. Even though McAfee and Norton's firewalls work differently, both performed similarly.
Norton 360's Online Threat Protection secures your system from attacks in real time and its Smart Firewall suspends any dubious traffic. On the other hand, McAfee's Home Network Security protects your home network from intrusion, Safe Web Browsing stops compromised sites from loading, while Safe Family protects your children by monitoring their online activity and filtering malicious websites.
Norton Antivirus vs. Avast
Avast and Norton antivirus apps are loaded with great features. However, the most significant difference lies in the free version of Avast's antivirus. The free version offers fundamental protection from cyberattacks, while Norton has no free antivirus version at all.
Norton compensates this with significantly more powerful subscription features: For example, it has extensive malware protection, a VPN service, and a password manager. The latter two features can't be found in Avast's free and paid versions; Avast's SecureLine VPN must be bought separately, and the company has no password manager solution at the moment.
Recent Norton Updates
This company is constantly working on updating and evolving its product lineup. Thus Norton Security became Norton 360, and Norton Antivirus Plus replaced the Basic version. On top of it all, LifeLock introduced new protection and security features.
However, Norton's latest addition is not entirely security-related: Norton Crypto mines Ethereum when your computer is idle. This feature is available on all Norton 360 (i.e., Norton's antivirus Premium suite) plans, provided your device has the required hardware. This crypto tool relies on other Norton Crypto users to make your collective mining more secure. Everything you earn is stored in Norton's Crypto Wallet on the cloud.
Recent updates have also ironed out several issues for all Norton products. You can now immediately scan USB drives upon insertion and run a Smart Scan from the scan menu. Another neat addition is the alert notification that shows up when your backup storage is low or insufficient.
Bottom Line
Even though there are plenty of antivirus programs on the market, Norton antivirus is still one of the top antivirus software you can find.
With 30 years in business and an impeccable reputation, Norton is an excellent pick for individuals, families with kids, and small businesses. The aim of this Norton antivirus review was to let you know about the greatest assets of this software, such as dark web monitoring, parental controls, credit monitoring, and all the other protection tools it implements. It may not be the most affordable solution, but thanks to its reliable and robust protection, Norton is, first and foremost, an investment in your peace of mind.
FAQ
Is Norton a good antivirus program?
After inspecting all of its features and thoroughly checking the claims from other Norton antivirus reviews, we can confirm that Norton is a solid antivirus solution with a selection of excellent security tools that easily outshine the competition.
Does Norton software include LifeLock?
There are three Norton subscription plans that include LifeLock: Norton with LifeLock Select, Norton with LifeLock Advantage, and Norton with LifeLock Ultimate Plus.
Is there a free version of Norton antivirus?
No, but all subscription plans offer a seven-day free trial you can use to test the antivirus application before committing. Additionally, Norton has a 60-day money-back guarantee policy.
Will Norton 360 slow down my computer?
One of our Norton antivirus review's main goals was to check if this antivirus software would affect any of your other activities while protecting your device. We've concluded that you don't have to worry about that at all – Norton typically uses between 2% and 10% of the CPU, which means that most users won't experience any slowdowns whatsoever.