Cloud Storage Explained: A Comprehensive Guide
Store all your business or personal data securely in one place and access it anytime, from anywhere in the world.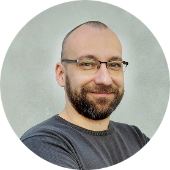 Updated:
Jan 20,2023 January 20,2023
DataProt is supported by its audience. When you buy through links on our site, we may earn a commission. This, however, does not influence the evaluations in our reviews.
Learn More.
The term "cloud storage" refers to the provision of data storage capacity as a service. Relying on this service, individuals and businesses can save and secure their data on remote servers. Moreover, persons who are granted access can retrieve this data from anywhere in the world via the internet.
Cloud storage is a scalable solution for businesses and individuals who want to store and share data without investing in expensive hardware. If you ever asked yourself "What is cloud storage," this article will provide some clarifications, as we will cover everything you need to know on the matter.
Definition of Cloud Storage
With cloud storage, your business can store data on a virtual server that is owned and managed by a third party. When users send files to the designated data server, this information is forwarded to multiple servers to ensure there is a backup in case one server encounters issues.
Owing to the usage of numerous servers, cloud storage guarantees the continuous availability of data. Consequently, if one server fails, others are able to take over, which means that data is secure and constantly available.
Cloud Storage History
Computer scientist Dr. Joseph Carl Robnett Licklider is considered the inventor of the cloud. About half a century ago, he was one of the key figures who created ARPANET, a network that led to the invention of the internet.
Basically, Licklider envisioned a world of computers that are remotely connected and whose data can be accessed by many people from different locations. This was brought to life with ARPANET, and the principle was applied to cloud technology many decades later.
During the 1990s, AT&T created the first web-based data storage service for both business and personal use. Today, we have many popular providers such as Dropbox, Google, Amazon, and Apple.
How Does Cloud Storage Work?
The market now boasts plenty of cloud vendors who are selling cloud storage services to businesses and individuals. These clients can access their data through storage protocols or via an Application Programming Interface. Some vendors offer additional cloud storage services that help users secure, analyze, collect, and manage data.
Depending on the type of data storage used, cloud storage can be described as file storage, object storage, or block storage.
File storage sorts information hierarchically into folders and files and it's most common with network-attached storage (NAS) and personal computer storage drives. The folders are organized by directories and subdirectories. The hierarchical organization makes it easier for users to retrieve and access data.
Block storage works by dividing data into smaller blocks, where each block is marked with an identifier. This kind of storage is efficient and fast, requiring minimal maintenance.
Object storage organizes data as objects. There are three categories: a unique identifier, metadata connected to the data file, and data stored in a file. The object storage protocol uses the RESTful API and stores a file as a single object, assigning it an ID number. When the users want to retrieve something, they present the ID and the content is put back together in its entirety.
As object storage wasn't being adopted fast enough, in recent years, vendors have added file system functions and capabilities to the object hardware and software. The data can be accessed by applications without supporting an object storage protocol thanks to system emulation provided by the storage gateway.
Types of Cloud Storage
You can connect to the cloud through the internet or a private dedicated connection using a mobile app, web portal, or a website and begin cloud sharing. Apart from the classification based on the type of data, there are several types of cloud storage based on how closed or open they are.
Public storage clouds let you connect to a cloud that is used by other companies and maintained by a cloud provider. The advantage of these clouds is that there aren't many administrative controls, and the owner doesn't need to spend much time maintaining the system. Public storage clouds are reliable, affordable, and easily scalable.
Private cloud storage is a private network with a physical server. There are two options for your business - you can control the on-premise private cloud, or you can have a provider create a dedicated cloud which can be accessed with a private connection. Banks and retail companies usually opt for private cloud storage due to the nature of their data.
Hybrid cloud storage is a combination of public and private clouds, leaving you with a choice of which data you want to store on which type of cloud. It's always advisable to store sensitive data on a private cloud.
Cloud Storage Security
Many business owners are hesitant to store their data on the cloud, primarily due to security concerns, but the reality is that cloud storage is highly secure and safe to use. We'll go over some details and explain why you should rely on the cloud and in what way secure file storage is guaranteed.
Cloud networks are constantly being watched over. Not only are there systems in place to monitor all activity, but there is also designated staff to keep an eye out for possible changes that could compromise the data. Robust security applications safeguard the data from hacks 24/7, and the system is tested frequently, so it's bulletproof.
Apart from taking care of the data in a virtual sense, the cloud provider also physically protects its servers with security officers who are always on-site, in case someone tries to access or damage the hardware.
Other than that, clients' valuable data is stored in multiple physical and virtual locations around the world. So, in case something happens to the hardware or a software malfunction occurs in one place, there are plenty of other points at which the information is stored. This information can be retrieved and used at any time.
Lastly, it's essential that your information is end-to-end encrypted and no one has the decryption key but you. The information your business is storing on the cloud will be encrypted before it's passed on to your cloud provider. Even if an attacker manages to get a hold of your data, they won't be able to decrypt the content, so it will be useless to them.
This zero-knowledge policy is vital as some business owners believe that cloud storage providers are able to read the information that they store on the cloud. However, that's not possible.
Cloud Storage Pricing
Companies can significantly cut their data storage costs by switching to cloud storage. This solution is relatively affordable as the business owners won't have to invest in pricy in-house storage infrastructure.
Fees vary depending on the business and the cloud provider - you may pay anywhere from $1.99 to $100 for 100 GB per month. Additional fees may apply for transferring data or deleting and making changes to your database.
Cloud Storage Advantages
One of the main benefits of cloud storage is the option to pay just for the storage your business uses without having to invest in resources that exceed your needs.
Although these costs work as a subscription and the fees are recurring, you'll still pay less than you would if you decided to have in-house infrastructure. As users pay for the storage capacity they sign up for, they will pay less if their usage decreases.
One of the greatest perks of cloud storage is that it's available worldwide and on all operating systems. Additionally, it's a breeze to use, so you won't need an IT guy to help you with system maintenance.
With cloud storage, you'll have robust off-site data security for the data you've decided to back up. Whether you're a business owner or an individual, you should always look for good options to back up your data because that could be a life-saver if you lose access or your files get compromised in any way.
Cloud Storage Disadvantages
Cloud storage technology has made work and everyday life a whole lot easier for millions worldwide, but it is still far from perfect. We'll take a look at some of the main drawbacks users are facing today.
Affected performance. Your business may face difficulties when your in-house applications need to access the information you have stored on the cloud. That's why you'll sometimes have to resort to certain adjustments, bringing the data to the in-house environment.
Cost. One of the benefits of cloud storage can easily become its drawback. In situations when your business requires frequent movement of data, the cost may go up.
Security. Some businesses are hesitant to use public cloud storage as they're not sure the information will be handled safely once sent to a third party. For this reason, state-of-the-art security measures are deployed to minimize the occurrence of a breach.
Vendor lock-in risk. By storing all your data on a single platform, you are committing to one provider even though some other provider might offer lower costs. This can be solved by using a hybrid solution.
Choosing the Best Cloud Storage Provider
Since there are a lot of cloud storage options, it's essential to keep an eye out for certain factors when choosing among different cloud storage providers. You'll want to make sure you're getting good value for your money, so it's best to assess each of these facets before opting for a provider:
Security. This is perhaps the most important thing to consider. Your information must be 100% safe as your business operation can fall prey to hackers or any other malicious actor if some of your data is compromised. Therefore, pay close attention to how strong the security of each cloud storage provider is, especially what type of data encryption it uses.
Speed. Businesses need to be absolutely sure that the download speed is optimal because it can severely affect their operations and vital data. There should not be a cap on download speed because you might end up losing a lot of time when you want to access your information.
Storage space. Be sure to look at the storage space plans that various providers offer and the accompanying prices. You don't want to settle for a provider that will cost you the same as another one that could offer a better deal in terms of bigger storage space.
If you're looking for cloud storage for personal use, it might be wise to choose from the top competitors that also cater to businesses. With a personal plan, you won't be able to access all the extra features that are available to companies, but you probably wouldn't need them in the first place.
Personal cloud storage can be great for freelancers to store their documents and media. Even though they won't have all the features, they can get access to the cloud at an affordable price. It's convenient that many providers also offer a free trial, and there's less commitment involved.
On a final note, you'd have a chance to enjoy what cloud storage technology is all about - storing and accessing information from any location as long as you have an internet connection.
Bottom Line
Cloud storage is a great way to keep your data safe while also reducing the costs of IT infrastructure. However, you need to be aware of all the potential disadvantages and carefully select a provider that will offer you the best deal for your business needs.
After you've considered all the factors we mentioned in this article, you'll be well on your way to choosing the perfect cloud storage provider for your business or personal use.
FAQ
How much does a cloud drive cost?
Depending on your needs, there are different deals for storing your data. In case you need a bigger capacity, you can get 10, 20, or 30 TB with Google Drive at the monthly rate of $99.99, $199.99, and $299.99, respectively.
Which cloud is best for free?
There are a few cloud storage providers that you can sign up with and store your data for free. Of course, up to a certain limit.
The first one is OneDrive, which offers 5 GB of free storage if you're a new user, while those who subscribe to Microsoft 365 plans will get 1 TB.
Dropbox offers 2 GB of storage space for free. Even better, with Dropbox Plus you'll get 2 TB for $9.99 per month.
If you have a Google account (with Gmail), you'll get 15 GB of free cloud storage space. You'll get 100 GB at $19.99, and if you need 2 TB, you'll be paying $99.99 per year.
What are the 3 types of cloud storage?
The three types of cloud storage are: public, private, and hybrid. Depending on the needs of your business, each of these models has its advantages and disadvantages.
Leave your comment
Your email address will not be published.*